Domain Domme : How Krista Gable tackles #domain investing in a male dominated industry
Krista Renee Gable is a former professional dominatrix, and a domain investor with a portfolio that focuses on technology, teledildonics, sex and cannabis.
Krista operates her domain portfolio from Domain Domme – clearly in a male-dominated industry; she is not afraid to try out niche markets that some would find shocking.
Krista is a dedicated mother, and a liberated woman entrepreneur, eager to succeed and research the many possibilities offered by today's domain market.
We asked Krista Gable a few questions about her approach with domain names, her background, and received some great, honest answers in return.
DomainGang : Krista, when and how did you get started in the domain and digital branding fields?

Krista Gable : I have engaged in multiple and varied entrepreneurial enterprises over the course of my life. I would always do my own marketing for these prior ventures. However, a year ago I decided to pursue domain investing and digital marketing full time.

My most recent profession before domaining was as a professional Dominatrix (Pro-Domme.) In order to drive traffic to my website, I taught myself about SEO and how it works. The more I learned, the more interested I became in the process, and I discovered that I could turn my unique perspective on life into a lucrative career that allows me a creative outlet.

DomainGang : Tell us about the domain niches you are focusing on currently.

Krista Gable : The niches that most interest me are three of the hottest trends in domaining today: Cannabis, Sex, and Technology.

One of the trends that intrigues me the most is the merger of sex and technology. I think that this field has a huge opportunity for growth over the next decade. My background has allowed me to register some truly inspired sex-related domains that others may not think of or even know exist. A couple examples of this include: ParticipatoryPorn.com, Fapatar.com and Telecumm.com.

DomainGang : How do you promote your "for sale" domain names (e.g. parking, development, social media, outbound sales etc.)

Krista Gable : I have a centralized website, DomainDomme.com where I list the vast majority of my domains for sale. I use social media extensively and post my domains with visuals and hashtags to promote various specific domains that I choose to target that day.

I also have redirected a large number of my domains to several reputable domain sales platforms where end users can make offers or buy it now with relative ease.

For a select few of my domains, I have elected to create individual sites to drive additional traffic. There are also a few domains that I plan to develop and market myself as functional websites for digital marketing.

DomainGang : Do you set fixed prices for your domains, a price range, or invite offers and negotiate?

Krista Gable : The majority of my domains have a fixed purchase price that allow users to buy it immediately. For several of my premium domains I only consider a prospective buyer's offer and list no fixed price.

DomainGang : What is your position on new gTLDs (e.g. positive, or negative) and what percentage of your domain portfolio is in .com versus other TLDs?

Krista Gable : I have mixed feelings about the new gTLDs. I like the increased diversity they provide and the ability to generate some truly fascinating domains that were not possible a few years ago.

However, I think that the almost unlimited number of gTLDs that exist today make it challenging for a new business just starting out to make the decision on what domain is best for them to register for their company.

Without a doubt though, I believe that .coms are king and still the most commercially desirable domains. They lend credibility to a company that the other gTLDs just don't. Over 90% of the domains I currently have registered are .com ( most of them are hand registered ) while others I either bought privately from other individuals or acquired through domain auctions.

DomainGang : Could you share some of your best domain sales so far?

Krista Gable : I have been doing this full time for less than a year, and in the beginning, my primary goal was acquiring interesting and unique domains for later sales. It is only recently that I started focusing on selling some of my domains and pushing that aspect of the business via social media channels.

From the start, I turned down a lot of low-ball offers from people because I have a long term investment horizon and feel that many of my domains will be worth much more in years to come.

One of my most recent sales is DigitalCyberspace.com. I got this domain last November at the low price of $5. A few days ago this domain sold for $888. This domain had no inquiries prior and no type in traffic so I was very pleased. Another avenue I am exploring is leasing some of my sex-related domains to adult service providers. This provides flexibility for the end consumer to pay month to month instead of a large upfront fee.

DomainGang : Please share some of your best domain names for sale!

Krista Gable : These are a few of my favorite Domains for sale: DigitalChain.com, DigitalDongs.com, CbdoilOutlet.com, Gened.com, AiAvn.com, Mindification.com, RapidFarming, ProDomme.com, ChargerLess.com, RideSolo.com, AiClimax.com, GenitalAi.com, LinkedMobility.com, SpyWearables.com and Remote.Sex.

I'm exploring creating a separate website, BrandDomme.com, to focus on the domains that I believe have maximum branding potential. Each domain on the site would have its own logo and content describing the specific possibilities of the type of products or industry it could be used for.

Creating logos for domains helps give me another outlet to express my creative energy and establish use of the domain. I am currently evaluating options on how to expand my company and my own brand.

DomainGang : Krista, many thanks for this opportunity to share with us details on what drives you as a person, and as a domain investor and entrepreneur. Our best wishes for great success in your future!

Visit DomainDomme.com for more information on Krista Gable's domain name portfolio.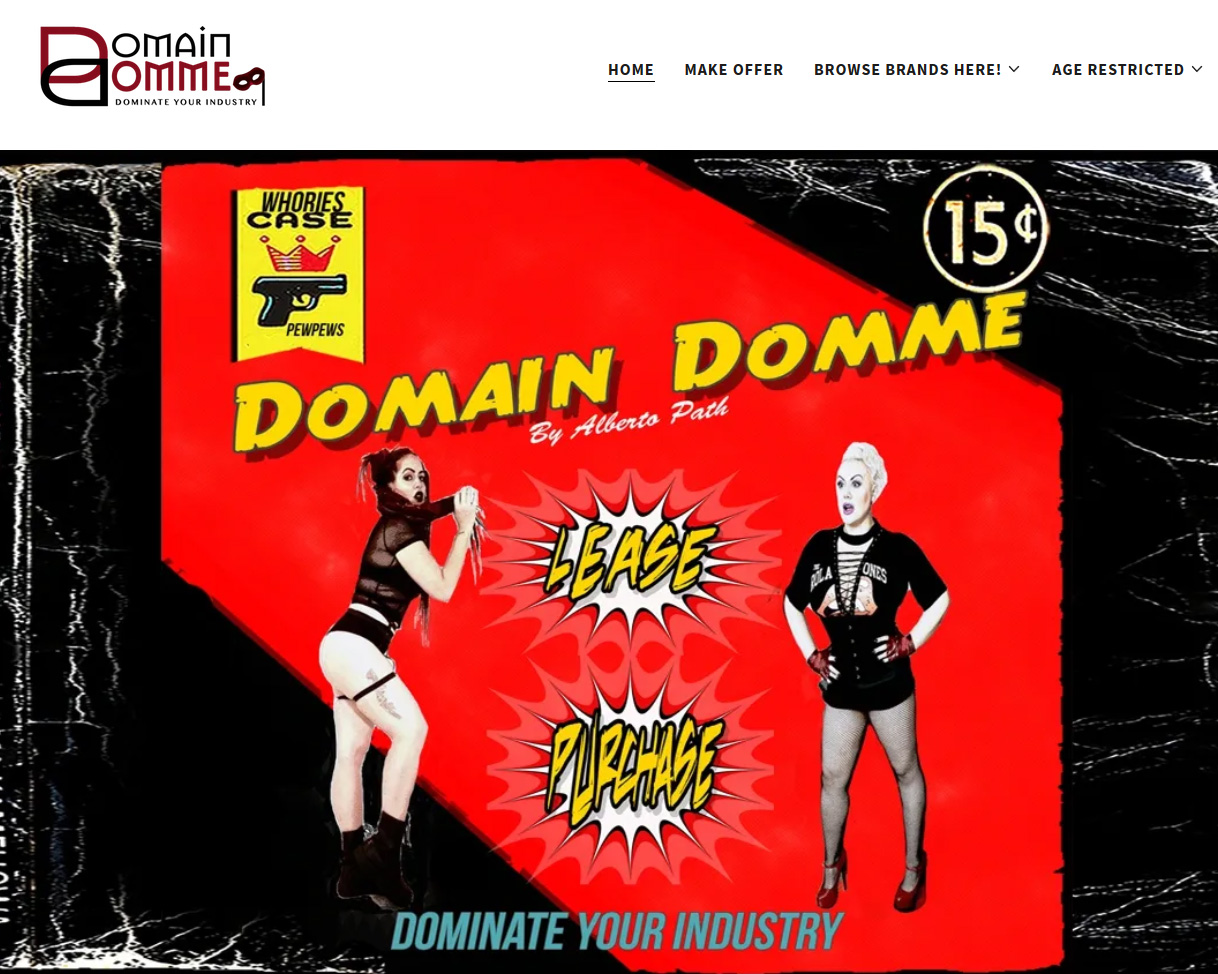 Copyright © 2023 DomainGang.com · All Rights Reserved.
Comments
6 Responses to "Domain Domme : How Krista Gable tackles #domain investing in a male dominated industry"