BreachForums and associate #domains were seized by the FBI
The Federal Bureau of Investigation (FBI) has seized the domain of BreachForums, a cybercrime marketplace. This action comes three months after the alleged administrator of the site, Conor Brian Fitzpatrick, aged 20, was arrested in Peekskill, New York in March. Fitzpatrick, who used the handle "pompompurin," is charged with conspiracy to commit access device fraud.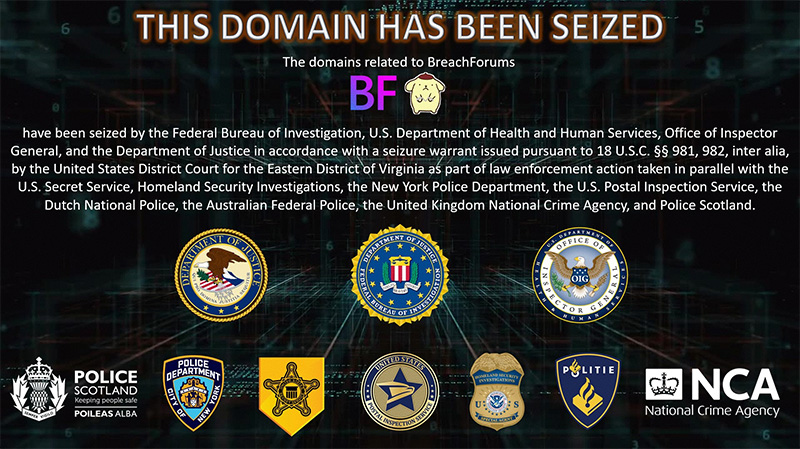 At the time of its closure, BreachForums claimed to have over 340,000 members. The site facilitated the trading of stolen information and hacking tools, particularly those used for stealing financial data.
According to the FBI's court testimony, Fitzpatrick's victims included millions of U.S. citizens, as well as various U.S.-based companies such as an electronic healthcare services provider, an internet hosting and security services provider, and an investment company.
The following domain names are part of the FBI's seizure of the illegal platform's satellite web sites:
abuse.today
as36231.info
breach.cat
breach.market
breached.cat
breachforums.org
cyberkittens.one
ghostforums.org
intelx.org
king-hack.xyz
minikloon.info
nathanlarson.org
p0ison.org
pagodahost.org
path-sucks.org
plain-text.org
poncefiles.org
prankcalling.org
predator.wtf
scriptsubmit.org
skid.cat
skidbin.org
subnet.info
try-harder-idiot.org
Copyright © 2023 DomainGang.com · All Rights Reserved.