#Slilpp domains were seized by the US Federal authorities
The US Federal authorities have seized several Slilpp domains that were used by a criminal group selling stolen credentials of thousands of platforms.
The US Department of Justice announced that Slilpp marketplace listings offered more than 80 million user credentials, harvested from more than 1,400 service providers broken into by hackers.
By seizing the Slilpp servers and associated domains, US authorities arrested or charged more than 12 individuals allegedly involved in its operation. Additional arrests were made in Germany, the Netherlands and Romania.
"The Slilpp marketplace allegedly caused hundreds of millions of dollars in losses to victims worldwide, including by enabling buyers to steal the identities of American victims," said Acting Assistant Attorney General Nicholas L. McQuaid of the Justice Department's Criminal Division.

"The department will not tolerate an underground economy for stolen identities, and we will continue to collaborate with our law enforcement partners worldwide to disrupt criminal marketplaces wherever they are located."
Currently, several seized domain names used by the criminal network display the following image: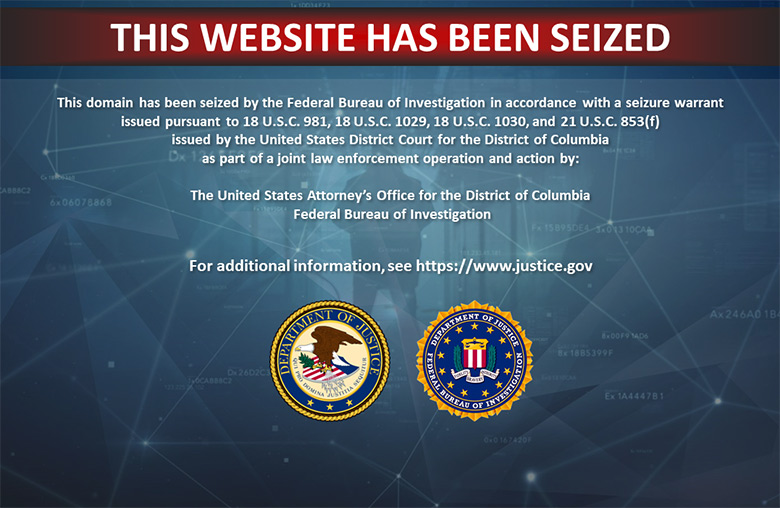 So what domains were seized by the US Federal authorities? Here's a list of domains seized by the FBI:
slilpp.xyz
slilpp.org
slilpp.ws
slilpp.net
Meanwhile, Slilpp.com is in the possession of a Korean domain investor and it's a domain that was previously owned by HugeDomains that was allowed to expire.
Due to the notoriety of the Slilpp "brand" there's no doubt that the .com is worthless, although it might have commanded some healthy direct navigation traffic.
Copyright © 2023 DomainGang.com · All Rights Reserved.