Oversee attempted to register "Domaining 2.0" as a trademark
In 2008, Oversee was at its peak point, generating millions of dollars in revenue. The company leveraged and monetized millions in PPC revenue and had diversified its business via a series of strategic acquisitions.
Its unfortunate fall arrived not much later but in 2008 Oversee still had big plans with "Domaining 2.0″—the next generation approach to domaining, apparently. The term was gaining traction among domain investors and outside of the domain industry as well.
The company thus filed for the registration of the trademark DOMAINING 2.0 in November 2008. The mark was to involve the following products and services: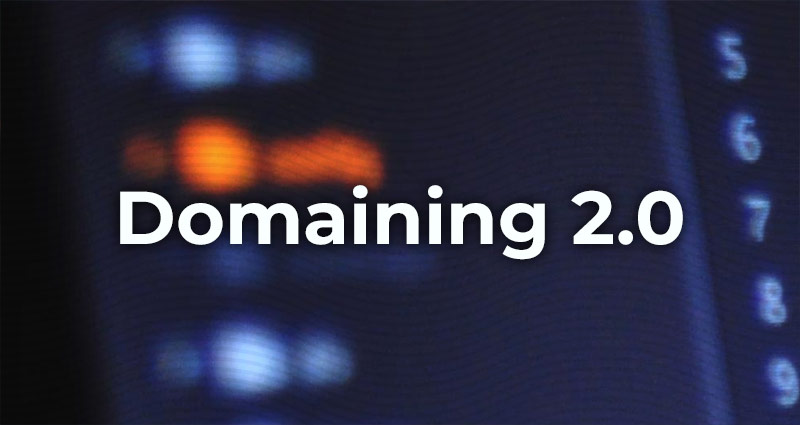 domain name and registrar-related business services and online publications related thereto; marketing services and consulting services in the field of domain names, online business, brand identity and online security; domain name registration services; market research in the field of domain name traffic; promoting, advertising and marketing of the on-line websites of others; online auction services and title transfers featuring domain names; registration of domain names for identification of users on a global computer network; online privacy protection services; online marketing and advertising services; providing internet web pages that advertise the goods and services of others; assembling, posting and/or maintaining content and/or advertisements on domain name sites on the global computer network; business advertising services in the fields of publishing and monetization of content delivered via the internet and other computer networks; search engine marketing services, namely, creating dynamic landing pages for designated, targeted key word combinations in response to internet searches; lead generation services, namely, an internet-based technology platform consisting of a customer lead management system for others, the collection and dissemination of consumer information, providing customer lead generation, customer lead origination; domain monetization services for monetizing web traffic visiting undeveloped domains; online travel comparison services, online education comparison services; parking domain names for others, namely, providing computer services for facilitation of the storage and/or monetization of domain name addresses; analyzing internet traffic patterns for optimizing domain pages, namely, computer services for analyzing internet searches for optimizing the content and advertisements on domain name pages; optimizing search engines, namely, providing computer services allowing others to customize and/or optimize the content and/or advertisements on domain name pages in order to effectuate optimal placement in search results; optimizing search engines, namely, providing product and service comparison services for others
As it was filed with an "intend to use" clause, Oversee was required to followup within 6 months and demonstrate the mark's use in interstate commerce.
Unfortunately, that didn't happen, perhaps due to the subsequent decline of Oversee's financials and a change in strategic focus. The mark DOMAINING 2.0 was thus deemed abandoned by the USPTO platform a year later.
With Web3 becoming a popular buzzword, it won't be long before some domain-centric company applies for the registration of the mark DOMAINING 3.O 😀
Copyright © 2023 DomainGang.com · All Rights Reserved.
Comments
One Response to "Oversee attempted to register "Domaining 2.0" as a trademark"