Thousands of Chinese brands, trademarks, and domains are fraudulent
The United States Patent & Trademark Office (USPTO) sanctioned a Chinese trademark agency by terminating over 15,000 US trademark cases for defrauding the USPTO.
Yusha Zhang and Shenzhen Huanyee Intellectual Property Co., Ltd. have been involved in filing submissions for more than 15,000 trademarks; violations included the unauthorized practice of law, providing false domicile information for applicants, and violating other USPTO Rules.
Impending sanctions include terminating over 15,000 proceedings involving submissions filed by the Respondents and precluding Respondents from further correspondence or submissions.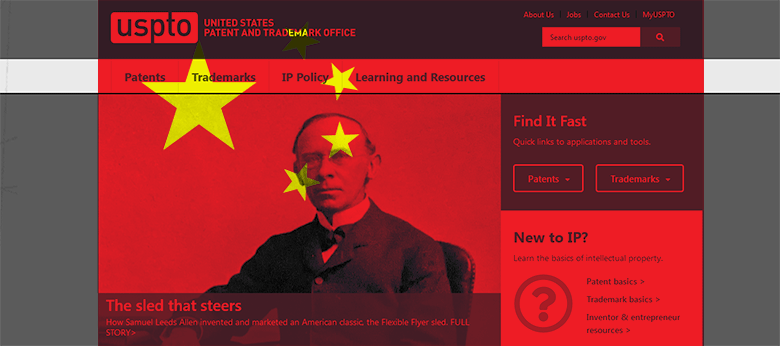 According to the National Law Review, Huanyee is a China-based organization that advertises that it assists clients with registering trademarks in China, and has filed more than 30,000 foreign trademark applications, including in the United States, and offers U.S. trademark registration services via its website:
"Respondents are not authorized to make submissions to the USPTO on behalf of others in trademark matters. Ms. Zhang is not a U.S. licensed attorney, nor does Huanyee have any U.S. licensed attorneys on staff who supervise Respondents' work."
A huge influx of trademark applications with the USPTO in recent years has slowed down the processing of all trademark applications to a screeching halt. Currently, it takes an average of 6 months for a new trademark application at the USPTO to be assigned to an examiner.
China's government subsidizes the cost of US trademark registrations, resulting in thousands of applications from China, many of which are seemingly "random" character strings. These pseudo-brands are then used to promote China-sourced products on retail marketplaces such as Amazon, or via individual domains and web sites.
A small sample of the brands processed via the Chinese trademark agency that the USPTO is sanctioning can be seen below:
SUCCEX
TSEXLA
ZHEG
OHANNIEWA
COSROOM
DZDRESS
ALPHATOX
COAYUZY
ANGHUILEE
HIUXUME
MAGHAT
OEZFEDU
MNEOKAE
FOJELNG
OTUNAWOU
WJQEAL
VWENGWENG
CELORI
FMUMIA
CHERRLINY
FREEFLOWER
PEKTOP
QICLIC
GNIZAIN
KESENK
LOMOR
OBERANI
WDFDZSW
EMMELIESTELLA
PAMOAEN
MVLRNG
KEYIX
KINGORY
GTYUNKE
NEWAY VINYL
TOBETTER
MEI LAN SANJIE
CHANGYUAN
BAZA MOVADO
ONTRUNG
PILODOV
RUNFASCL
VEIMDO
Copyright © 2023 DomainGang.com · All Rights Reserved.