Acquire.com: #Microacquire founder asked Elon Musk for the banned Twitter account
The founder of Microacquire, a start-up that assists other start-ups improve their chances of getting funded and acquired, is one busy CEO.
Andrew Gazdecki's company is rebranding from Microacquire.com to Acquire.com, having acquired—pun intended—the matching .com domain, Acquire.com.
In the process, the company filed an application with the USPTO to register the mark ACQUIRE.COM. It's an "intend to use" application, that will require proof of use of the mark within six months of the mark's approval. The process might take almost a year to reach that point and in the meantime, Acquire.com can begin using the tag "TM" alongside its ACQUIRE.COM mark.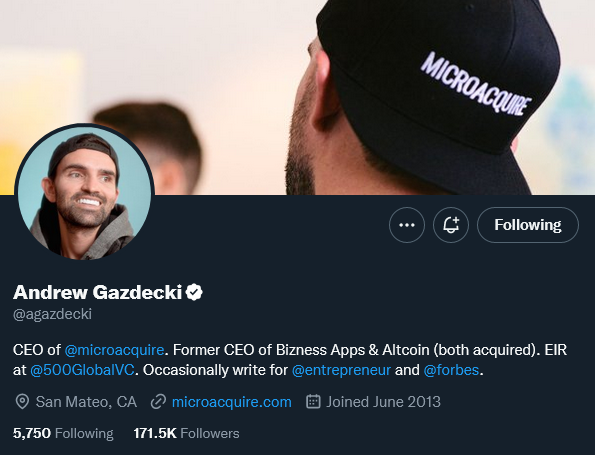 Andrew Gazdecki made a public plea to Elon Musk, new owner of Twitter, asking him to release the @acquire handle that has been suspended.
Whoever used the @acquire handle in the past most likely engaged in some type of system abuse. Then again, it might have been suspended due to lack of use!
Said the Acquire/Microacquire CEO on Twitter:
"Shooting my shot! Any chance we could use this handle @elonmusk ? It's been unused and suspended for years. We've contacted support without any response and we own the domain. We're happy with @acquiredotcom but we'd make good use of @acquire !"
Restoring unused Twitter accounts that have been banned is not uncommon; proving that one's trademark matches the specific username can often lead to the Twitter account's release.
Copyright © 2023 DomainGang.com · All Rights Reserved.