Escrow.com: Domain Investment Index Q1/2023 boasts 61.6% sales volume increase
Escrow.com released its Domain Investment Index for Q1/2023, reporting a 61.6% increase in total domain name volume, growing from $80.3M in Q4/2022 to $129.8M in Q1/2023.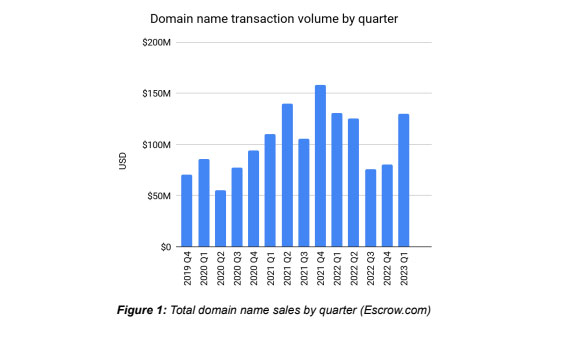 A resurgence in domain names sales was seen in Q1/2023 as the total volume was at its highest since Q2/2022. Several mega domains, including Chat.com, Prompt.com and NewYork.com, were seen in the first quarter of 2023 and are expected to continue throughout the year.
Aside from the mega domains, ".ai" domains hit their peak in Q1/2023 by reaching a total volume of $1M as interest grows for artificial intelligence services. With the AI revolution steaming forward, this trend is also expected to continue to grow in 2023.
Looking globally, there has been a significant increase in the value of domain name transactions from the United States and the United Kingdom, which have gone up in value from $57M to $87M, and $8M to $22M respectively in Q1/2023.
View the full report in PDF format.
Copyright © 2023 DomainGang.com · All Rights Reserved.