Internet Edge rocks the .US domain landers!
Domain investor, media mogul, and long-time friend, Ron Jackson, operates a successful domain selling platform from InternetEdge.us.
Ron's knowledge, active participation and journalistic coverage of the domain market spans two decades. More importantly, Ron Jackson's business acumen is matched by a great personality; Ron always encourages and applauds the success of others.
So what is this about, you might ask, a eulogy?
Hell no. Ron's doing fantastic. We came across a great system that InternetEdge is using to promote his inventory of LLL .US domain names, and other .US domains in general.
For example, HRI.us: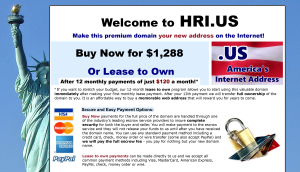 By using his own domain landers, Ron Jackson has the opportunity to present not just the domain in question, but to emphasize his argument on domain valuation, linking to several important sources of industry-specific info on that same page.
Win-win! 😀
And if you want to peruse and acquire other LLL .US domains from the domain industry's top guy, click here.
Copyright © 2023 DomainGang.com · All Rights Reserved.