#LimeWire is back as #NFT market after Limewire.com #domain sale
LimeWire was a popular destination for peer-to-peer (P2P) file sharing that shut down over a decade ago. It operated from the domain Limewire.com that was registered in 2000, when the service was launched.
Apparently, LimeWire is back as an NFT marketplace. In other words, the new company has nothing to do with the old one, as none of the assets, other than the domain name Limewire.com changed hands.
In fact, the former founder of LimeWire, Mark Gorton, wasn't too thrilled about this new company that is apparently based in Austria.
"I am not thrilled about an unrelated group of people using the LimeWire name. Using the LimeWire name in this way creates confusion and falsely uses that brand that we created for purposes for which it was never intended."
The domain LimeWire.com was sold by one of its developers, Zlatin Balevsky, who acquired it as an expired domain at GoDaddy. Limewire.com appears to have been sold in late 2021, per WHOIS records.
There are no records of a past sale of Limewire.com on NameBio. Jamie Zoch of dotWeekly reported the GoDaddy auction for Limewire.com when it was ongoing in 2016.
Since then, the old trademarks for LIMEWIRE have expired and the current holding company, LimeWire GmbH / Austria, filed a trademark application for the registration of a fresh LIMEWIRE mark, for the following services:
IC 009. US 021 023 026 036 038. G & S: Information technology and audio-visual, multimedia and photographic devices; computer software; downloadable media; recorded content
IC 035. US 100 101 102. G & S: Advertising, marketing and promotional services; computerized file management; commercial administration of the licensing of the goods and services of others
IC 036. US 100 101 102. G & S: Financial, monetary and banking services
IC 038. US 100 101 104. G & S: Telecommunication services; electronic transmission of data; packet transmission of data and images; transmission and distribution of data or audiovisual images via a global computer network or the internet
IC 041. US 100 101 107. G & S: Education, entertainment and sport services; provision of on-line computer games
IC 042. US 100 101. G & S: Information technology [IT] consultancy services; testing, authentication and quality control
However, the current web site at Limewire.com shows that the focus is NFT: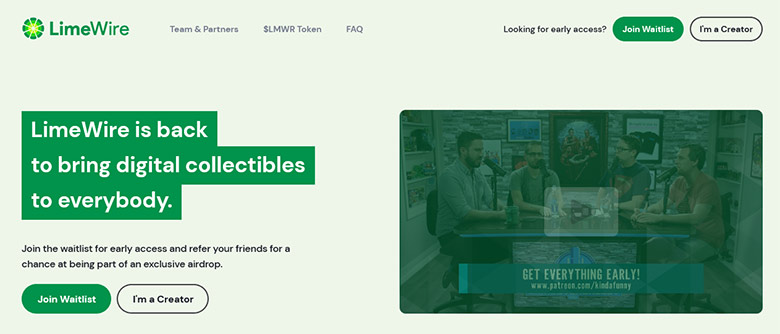 It seems that it's a current trend to bring back old defunct brands popular in the 2000s, relaunching them as NFT-focused platforms, as the case for WinAmp.com shows.
Copyright © 2023 DomainGang.com · All Rights Reserved.
Comments
2 Responses to "#LimeWire is back as #NFT market after Limewire.com #domain sale"