Namecheap released its Domain Insights and Trends Report – 2023 edition
Namecheap, the world's second-largest domain registrar, unveiled its highly anticipated "2023 Domain Insights and Trends Report." This comprehensive and insightful report offers a deep exploration into the dynamic and ever-changing domain name landscape, making it an invaluable resource for businesses navigating the digital sphere.
In today's rapidly expanding online world, being well-informed about domain trends and consumer behavior is crucial for businesses seeking to establish and maintain a strong online presence.
Namecheap's 2023 Domain Insights and Trends Report aims to equip entrepreneurs, marketers, and domain investors with the knowledge necessary to make well-informed decisions and leverage emerging opportunities effectively.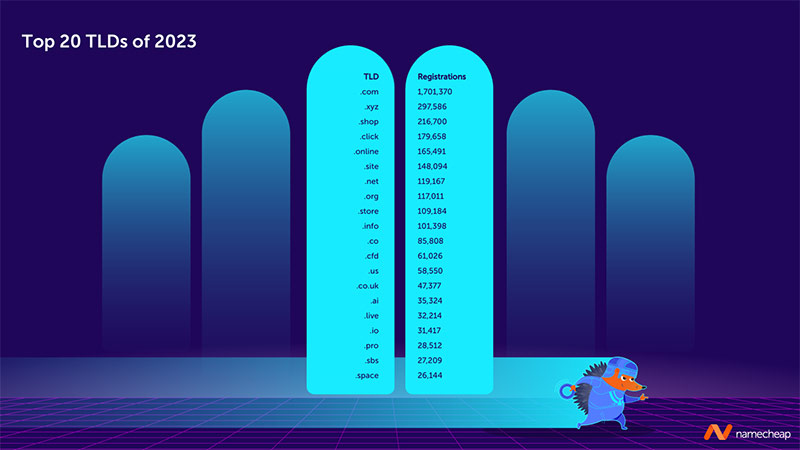 Drawing from Namecheap's extensive domain registration database, which boasts more than 17 million domains under management, the report presents a wealth of data-driven analysis.
Namecheap's dedication to providing such in-depth and up-to-date domain insights underscores its commitment to supporting businesses in their quest for online excellence. By leveraging the information presented in this report, professionals can stay ahead of the curve and thrive in today's ever-evolving digital landscape.
Top 20 TLDs of 2023
Global Domain Registration Trends
Most Popular Non .COM TLDs by Region
Top 15 gTLDs
Top 15 ccTLDs
Most Popular New TLDs
Best and Worst TLD Renewal Rates
Top 15 Most Expensive Auction Sales on Namecheap Market
Top 3 TLDs by Industry/Category
and more!
Read the entire Namecheap 2023 Domain Insights and Trends Report in Namecheap's Guru Guides — a digital marketing resource for online entrepreneurs and businesses. Namecheap's Guru Guides offers a massive collection of written articles and guides, covering business management, marketing, and just about everything needed to be successful in the world of digital business.
Copyright © 2023 DomainGang.com · All Rights Reserved.