OMG! OMR festival unveils supersized Sedo & InterNetX art!
The latest OMR festival in Hamburg, Germany, was yet another opportunity for brand-centric companies like Sedo and InterNetX to promote domain names as brands.
OMR 2022 ends today, having attracted hordes of marketing specialists eager to meet in person, after two frustrating years of dealing with the Covid-19 pandemic. Among the speakers, Quentin Tarantino and Ashton Kutcher shared their wisdom about how to leverage today's marketing challenges.
Our kind sponsors, Sedo and InterNetX, were present with a supersized banner art standing 7 meters high! That's 21 feet tall for those of you stuck in the 1700s not getting the metric system.
The beautiful mural was drawn by a talented artist from Regensburg ; Sedo and InterNetX wanted to deliver an urban, "street style" look for the booth. Christian Voss of Sedo said that each TLD (.link, .shop, it.com, .eu) received its own character for t-shirts and future promotions!
Wunderbar! 😀
Here are some fun photos from the OMR festival featuring the Sedo / InterNetX booth!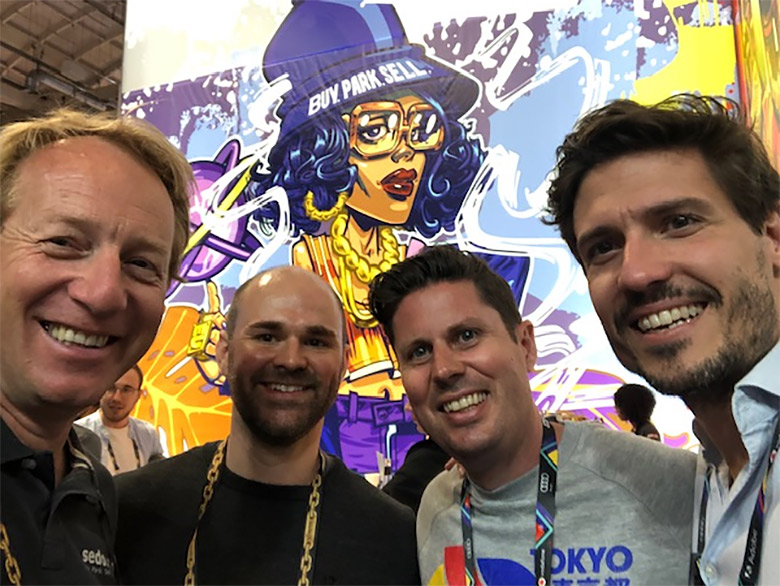 Copyright © 2023 DomainGang.com · All Rights Reserved.