Report: Escrow.com has best quarter since Q2/2022
Escrow.com today announced that overall volume is up 47% quarter-on-quarter, with domain names being a driving force to the growth over the past quarter.
In Q1 2023, Escrow saw a resurgence in large value transactions ($1m+) with Q1 23 domain name volume returning to levels previously seen in Q1 2022.
Escrow attributes the volume growth to an anticipated boom in venture capital flowing into startups capitalizing on generative AI. For example, the company facilitated the purchase of Chat.com and Prompt.com, as well as other high value domains such as NewYork.com.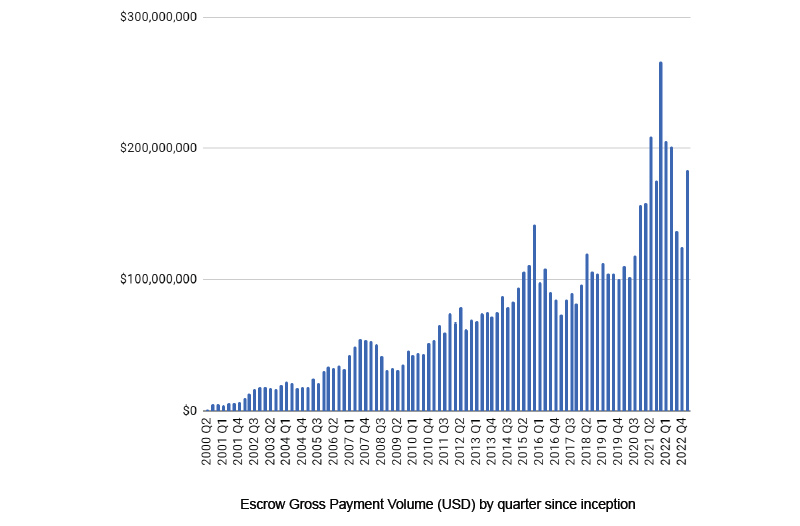 Escrow also aims to continue broadening its offering and increase partnerships within the domain name industry by upgrading and automating the Domain Name Holding offering, streamline the client onboarding process, KYC, revamping partner tools, partnership reports, and improving the overall partner and customer experience.
The company also announced it will present its annual Master of Domain Awards to the top brokers of the year at NamesCon Global in Austin, Texas.
"Aftermarket domain name volumes are back and are being propelled by a boom in AI-related domain names, such as the Chat.com deal in March and the sale of Prompt.com. It's not only domain names that are benefiting from this boom, we're also seeing an increase in the sale of AI-related trademarks, applications and businesses through our platform," said Matt Barrie, Chief Executive of Escrow.com.
One recent example of the boom in the AI related space is the recent sale of the MakeLogo.ai business through Acquire.com and Escrow.com for $65,000.
Founder Nico Jeannen details his story of creating an app to generate logos using AI to then sell the entire business and domain three months later.
Copyright © 2023 DomainGang.com · All Rights Reserved.