Seven with #Sedo : Top ccTLD keyword auction is live
Sedo, our premium sponsor, is rolling out a seven day auction of ccTLD domain names.
Featuring top level domains from Europe, the event takes place from May 20 – May 27 and there are 171 domains on that list.
You can expect to find domains from France (.fr), the Netherlands (.nl), Spain (.es), Italy (.it) and even the UK (.co.uk/.uk).
That's right, there's no Brexit when it comes down to domain auctions! 😀 The domain keywords make sense in the respective languages; French, Dutch, Spanish, Italian, and English.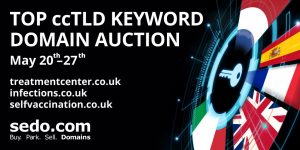 From that list we hand-picked seven domains for this edition of "Seven with Sedo." Neither Sedo or the domain owners influenced our picks:
Infections.co.uk – The pandemic is under control in the UK and that's a good thing for Boris Johnson.
Marte.es – That's Mars in Spanish, waiting for the first colonists from Madrid.
Minuterie.fr – A timer, which you need to cook all those great French dishes accurately.
Bikecam.nl – That's a bike cam in Dutch. Isn't it an easy language to learn?
Clysma.nl – You will probably need this enema after overcooking the French dishes.
Testuggini.it – Turtles in Italian, although I bet you thought it's some type of pasta!

Orgasmo.it – Every day should be orgasm day. Viva Italia!
See the full list of ccTLDs on auction.

Copyright © 2022 DomainGang.com · All Rights Reserved.