YE.com: Will Kanye West buy the #domain name?
A Los Angeles judge approved rapper Kanye West's request and legally changed his name to "Ye," his longtime nickname.
Not that ye know about it, unless ye are a hardcore fan of the former US presidential candidate.
Kanye (Ye) also filed for the registration of the trademark YE under his corporate entity, Mascotte Holdings, Inc. The application spans several classes and here's a small sample:
Tablet computers; computers; portable computers; audio speakers; audio electronic components, namely, surround sound systems; ear buds; headphones; earphones; wireless headsets for tablet computers; wireless headsets for mobile phones; wireless headsets for smartphones; wearable wireless headsets comprised primarily of an mp3 player; wearable wireless earsets in the form of wireless ear buds comprised primarily of an mp3 player; virtual reality headsets; mobile telephones; smartphones; wearable computers in the nature of smartwatches and smartglasses; smartwatches; blank usb flash drives; blank flash memory cards; protective covers for smartphones; electronic wearable activity trackers; rechargeable electric batteries; televisions; portable media players; battery chargers; leather cases for mobile phones; leather cases for smartphones; leather protective cases for tablet computers; protective flip covers for mobile phones; protective flip covers for tablet computers; telecommunication apparatus in the nature of wireless receivers in the form of jewelry; smart rings; wearable electronic devices that are comprised of wearable computers in the nature of smart necklaces and smart bracelets; eyewear; eyeglasses and eyeglass frames; sunglasses and sunglass frames; eyewear and sunglass cases; eyewear accessories, namely, straps, chains, neck cords and head straps which restrain eyewear from movement on a wearer; Musical sound recordings; audio-visual recordings, namely, downloadable MP3 files, compact discs, phonograph records, CD-ROMs and DVDs, all featuring music, sound tracks, television programs and motion pictures; downloadable musical sound recordings; downloadable video recordings featuring music and entertainment; downloadable electronic publications in the nature of books, magazines, journals, brochures, leaflets, pamphlets and newsletters, all in the field of music and entertainment news; decorative magnets; refrigerator magnets; novelty magnets; mouse pads; compact disc cases and covers; faceplates for cell phones; jackets for discs; fitted cases for storage and transportation, namely, cases for compact discs, CD-ROMs, computers, cameras, camcorders and portable phones; computer carrying cases; wrist rests and supports for computer mouse users; wrist rests for use with computers and computer accessories; computer keyboard wrist pads; eyewear; eyeglasses and eyeglass frames; sunglasses and sunglass frames; clip-on sunglasses; spectacles and spectacle frames; lenses for eyeglasses, sunglasses and spectacles; eyeglass, sunglass and spectacle cases; eyewear accessories, namely, eyeglass, sunglass and spectacle straps which restrain eyewear from movement on a wearer; goggles for sports; motorcycle goggles and night vision goggles; eyeglass, sunglass and spectacle chains; downloadable music, ring tones, graphics, and electronic games via the Internet and wireless devices; downloadable wireless entertainment via the internet and wireless devices, namely, ring tones, screen savers and images, and wallpaper; downloadable wireless game software; audio/visual projectors for children and accessories therefor; computer game cartridges, discs, programs and software; computer joystick peripherals; video game cartridges, video game discs, video game software and video game programs; interactive multimedia computer game program; interactive video game programs; interactive audio game discs containing action games and role playing games; interactive video games of virtual reality comprised of computer hardware and software; virtual reality game software; video game machines and video output game machines for use with televisions; multi-media software recorded on CD-ROM featuring music, entertainment, and games; computer software for use in the design, development and execution of wireless game and entertainment programs and application
With all that in mind, perhaps Ye would be the perfect candidate for acquiring the two letter .com domain name, Ye.com.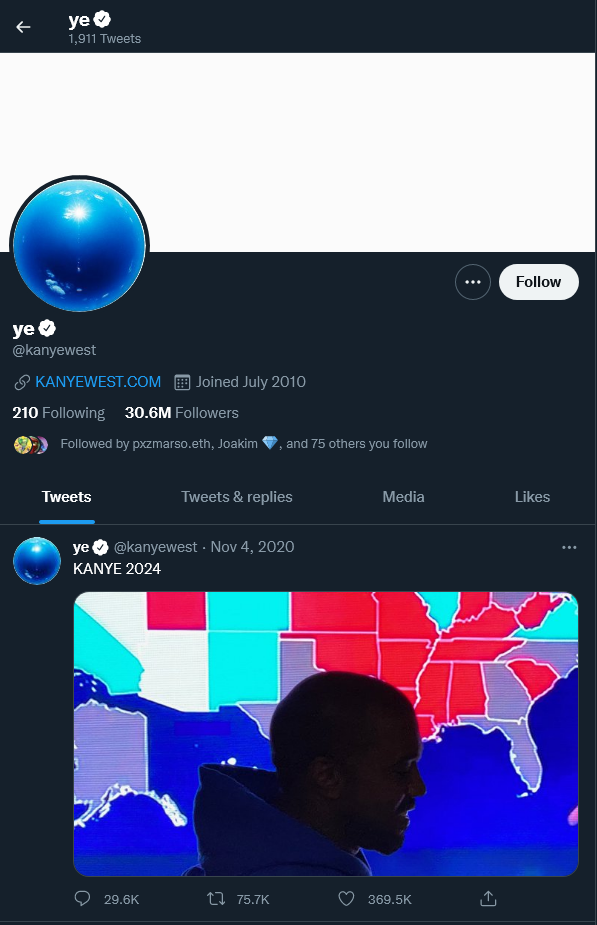 In Chinese hands, Ye.com has been registered since 1997. Currently, it does not resolve.
How much would Ye offer for Ye.com as a rich entrepreneur worth $1.8 billion dollars?
We want to believe he'd fork out at least $1 million dollars, yo.
Copyright © 2023 DomainGang.com · All Rights Reserved.