Chinese domain seller rages about the 25% fees at GoDaddy-owned Dan.com
A domain seller who found out that he stands to receive 25% less of his sale's price left a scathing review for Dan.com.
The GoDaddy-owned marketplace seems to be taking a whip, all thanks to an outrageous policy enforced by GoDaddy on February 1st.
In a nutshell: When domains are listed on Dan.com or Afternic, you'd better be using a GoDaddy-approved DNS, such as Afternic or Dan.com nameservers. If you use your own, park the domain elsewhere, or create a landing page with your own content, you'd better be ready to pay the 25% fee when the domain name sells on Dan.com or Afternic.
Says the Hong Kong based domain seller about his experience: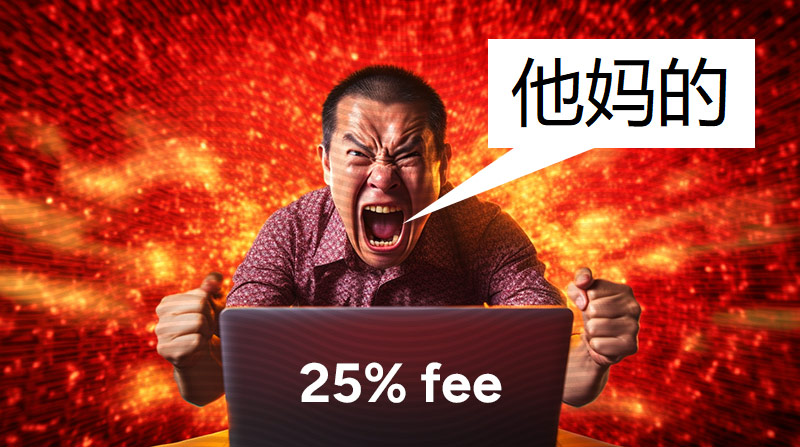 +10% more commission deducted for not using dan NS

25% + 5% commission deducted from seller, that is insane! If that's the case, I rather use other domain escrow platforms. I have not receive a email notification regarding not pointing to dan nameservers will result in a 10% more commission!!! That is unacceptable and i never seen another escrow platform have similar rule like this one!

By "not pointing to your platform page and deducting seller 10% more", and actually i only include my email and dan marketplace link on my landing page, they still deduct that 10% and reject to make any exception! That really disappoint and upset me! Where dan supports "import your own leads" that the seller invite the buyer by email, so i don't see how my landing page cause them any lost but only 10% lost to me!
GoDaddy claims that its Afternic product is worth 25% of a domain's sales price, which is then discounted when using Afternic or Dan.com DNS. In effect, GoDaddy punishes those that don't give up their domain traffic to GoDaddy, punishing both a seller's individual choice and competitive options with a big stick.
The original GoDaddy platform's latest version, Afternic 2.0, has been in perpetual beta for almost two years now.
Copyright © 2023 DomainGang.com · All Rights Reserved.
Comments
One Response to "Chinese domain seller rages about the 25% fees at GoDaddy-owned Dan.com"