#DigitalTown rolls out San Antonio .City #domain
DigitalTown develops web sites that operate on city-specific domain names, in a variety of geographical gTLDs. They call these web portals, "people-centric" cities.
One of these is the dot .City gTLD, and DigitalTown announced the availability of SanAntonio.City as a web portal dedicated to the city of San Antonio, Texas.
DigitalTown includes a blockchain-driven distribution of 10 free CityShares, to all local residents of the city of San Antonio that'd sign up.
Here's the press release we received: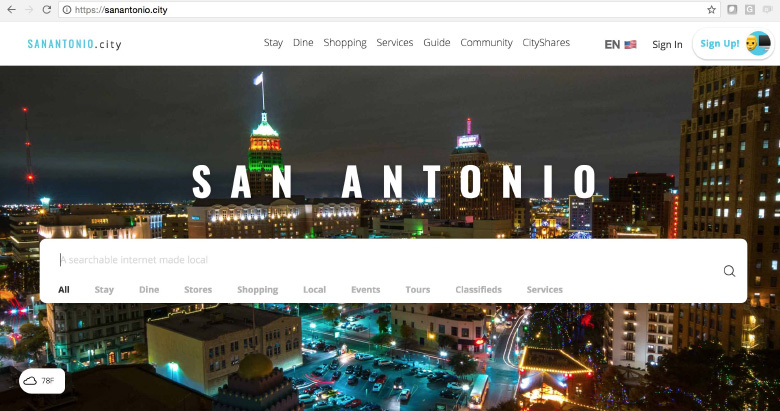 DigitalTown Launches SanAntonio.City Local Residents and Business can signup for free Now!

SAN ANTONIO, April 18, 2018 (GLOBE NEWSWIRE) — DigitalTown, Inc. (OTC:DGTW), the leading provider of People-centric and Blockchain-based Solutions for Smart Cities, is pleased to announce the launch of SanAntonio.City, a groundbreaking digital cooperative where residents and visitors improve the quality of life in San Antonio by connecting, sharing, shopping and transacting locally and directly on web and mobile. With the introduction of the SanAntonio.City platform, San Antonians have their local-first alternative to Google, Expedia, AirBnb, and PayPal, all in one, accessible 24/7 web portal and mobile app.

As part of the rollout, each resident of San Antonio is given a highly secure Blockchain smart wallet with which they can send and receive money digitally without fees. Every local business gets a free storefront where they can list their goods and services on SanAntonio.City and in the free mobile app, in order to accept online and mobile payments.

Local city leaders like Graham Weston and Jenna Saucedo-Herrera have taken interest in this new platform and see the tremendous positive impact it can have on the San Antonio economy, taking advantage of these technologies for the benefit of our community.

"We are excited to have a platform like SanAntonio.City," stated local entrepreneur Graham Weston. "New business models like this are revolutionary and we want our ecosystem to be early adopters of this type of blockchain technology."

DigitalTown CEO Rob Monster, who addressed the media in front of San Antonio City Hall on Wednesday morning, on the eve of Fiesta, explains why SanAntonio.City is important: "San Antonio is a remarkable city which has much to offer the world as a leading technology hub. DigitalTown is excited to partner with the citizens and institutions of San Antonio to empower quality of life for all stakeholders as the city positions itself as a leading city for innovation in the Digital Age."

Best of all, San Antonians can share in the success of the local platform itself, through the distribution of CityShares- a Blockchain-based solution for managing shared participation in city cooperatives. Starting today, residents are able to claim their free CityShare Tokens from SanAntonio.City. The free CityShares are limited to 10 for each local resident. Additional CityShares can be purchased by accredited investors.

DigitalTown has been launching Smart Cities across the globe including My.London, My.Miami and Austin.City. Austin alone had a tremendous response with over 38,000 free shares claimed and an additional 113,610 shares purchased within the first week of its launch.

Registration is completely free for both residents and businesses. To sign up, visit www.SanAntonio.City.

About DigitalTown
SanAntonio.city, a service of DigitalTown Inc. (OTC:DGTW) is part of a network of Blockchain powered SmartCity solutions. The service supports responsible economic development, and civic engagement for today's digital age. Inspired by the support-local movement, the platform lets users search, shop and connect directly with nearby merchants and service providers. Free eStorefronts and an innovative SmartWallet tool provide relief from heavy sales and transaction fees, both locally and abroad. For more information about the company, please visit digitaltown.com.
Copyright © 2023 DomainGang.com · All Rights Reserved.
Comments
4 Responses to "#DigitalTown rolls out San Antonio .City #domain"