Encephalitis.com : #NameJet-auctioned #domain in "perpetual expiration?"
The domain name Encephalitis.com is an apparent double-auctioned domain at NameJet.
According to John Berryhill who pointed out the process, the domain was auctioned on April 6 on NameJet, while in pending delete status:
It was then kept in pending delete status by an affiliate registrar of NameJet – OwnRegistrar, Inc.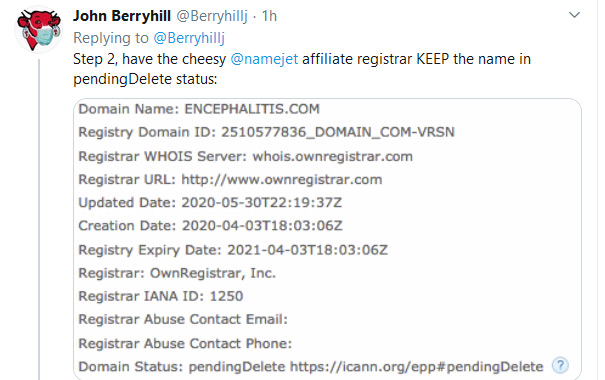 Subsequently, a month later, the domain is being re-auctioned as an expired domain, while it isn't:

According to John Berryhill, this way NameJet gets to auction the domain twice as an expiring domain, although the second time around it's a fresh registration.
It's definitely a domain auction scheme that can cause severe encephalitis to the plain Jane domainer! 😀
To read the exchange on Twitter, click here.

Copyright © 2022 DomainGang.com · All Rights Reserved.