F45.com: Auctioned domain was picked up by F45 Training
The domain F45.com was auctioned off on DropCatch last week, as a deleted domain, closing at $49,544 dollars.
F45.com has an interesting past, as it was stolen from photographer, Rolfe Horn in late 2015, by serial domain thief Oleksandar Sapoval.
Now, the domain F45.com forwards to F45 Training, an Australian company with global presence. According to Wikipedia:
F45 Training is an Australian franchisor and operator of fitness centers based in Austin, Texas. It has over 1,750 studios in 45 countries across Australia/Oceania, North America, South America, Asia, Europe and Africa
In 2017, they filed a UDRP to get the domain after the thief agreed to sell it for $15,000 dollars but he did not complete the transaction, citing difficulties with the registrar, Name.com.
The thief offered to be absent in a potential UDRP, scheming that his lack of response would direct the panel to release the domain the Complainant; they'd then collect a reduced fee of $10,000 dollars. To the parties' surprise, the UDRP was denied.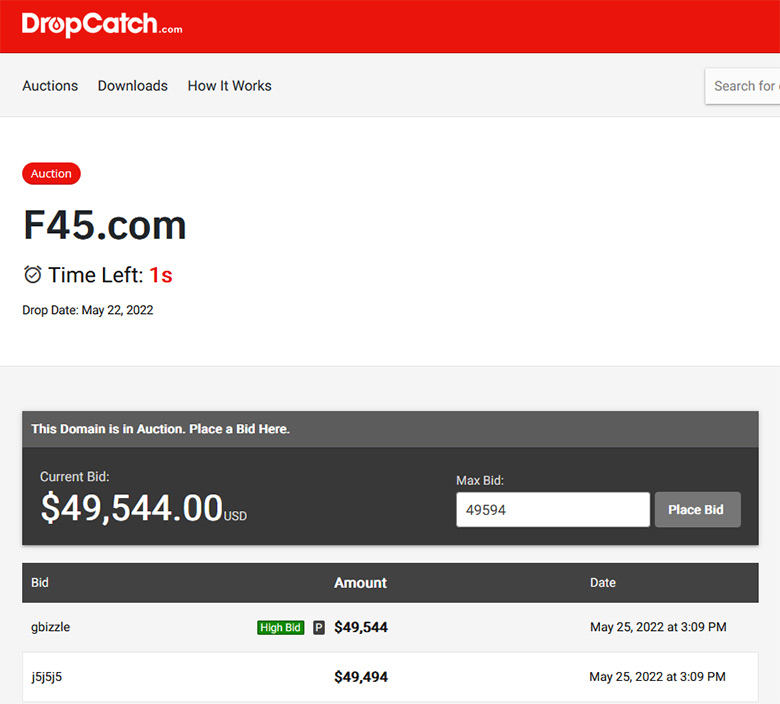 In April 2022, the thief turned up at NamePros and alleged that the domain F45.com was locked illegally at Name.com. With the domain reaching expiration, the thief was most likely looking to attempt to sell it but F45.com expired and was deleted. Following an investigation at NamePros, the thief's one year old account was terminated.
As the domain F45.com forwards to F45Training.com, we can assume that F45 Training paid almost $50,000 dollars via the DropCatch auction to get the domain. There are no DNS changes and whoever is in control of the domain simply uses a free URL forwarding provided by NameBright, the domain registrar that DropCatch registrations are assigned to.
It's not clear if the current registrant was aware of the domain's past and since they already filed and lost a UDRP the next option was to pay top dollar at the DropCatch auction.
Copyright © 2023 DomainGang.com · All Rights Reserved.
Comments
2 Responses to "F45.com: Auctioned domain was picked up by F45 Training"