Facebook Platform Fraud: An example of "fair use" in a #domain name
Using famous brands in domain names is a no-no and a surefire way to end up dealing with a UDRP.
Facebook in particular takes an aggressive approach to protecting its massively famous, global brand and trademark.
There is also "fair use," a doctrine in US law permitting limited use of copyrighted material without having to first acquire permission from the copyright holder.
One such case involves a lawsuit and the domain FacebookPlatformFraud.com.
According to the domain registered by Scott + Scott Law, an international law firm that specializes in complex litigation across the US and Europe, there's an ongoing litigation that involves Facebook. As seen in the class action lawsuit, the claim concerns Facebook's Platform, a software platform launched in 2007 that enabled third-party applications to interact with the Facebook ecosystem and data of its users.
Apparently, some app developers were "purportedly defrauded by Facebook" and that's how it all went to hell. The law firm actively advertises on social media, such as Twitter. Probably not on Facebook. 😀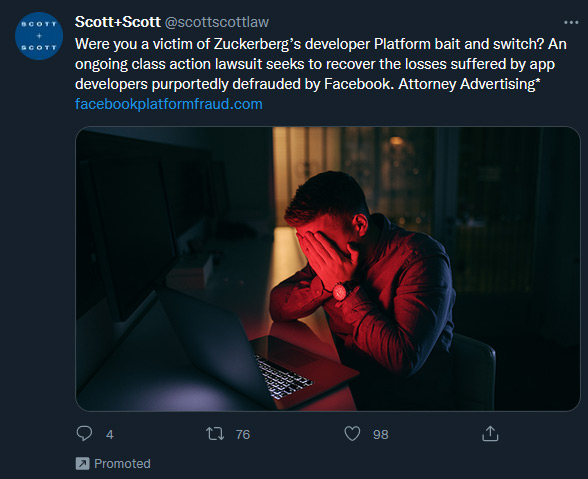 Copyright © 2022 DomainGang.com · All Rights Reserved.