#GoDaddy brands : The youngest #domain name for the biggest #registrar
GoDaddy has expanded its brand collection in recent years. The GoDaddy brands include web services companies, security integrity providers, registrars and registries.
Since the beginning of 2019, the GoDaddy brands index has added the following companies:
On April 10, 2019, GoDaddy acquired Sellbrite.
On January 29, 2020, GoDaddy announced an agreement to acquire Over.
On February 11, 2020, GoDaddy announced an agreement to acquire parts of Uniregistry, a Cayman Islands-based domain registrar.
On April 6, 2020, GoDaddy acquired Neustar's domain name registry service business and renamed it to GoDaddy Registry.
It'd be great to list and identify these companies and entities by name, and the latest corporate domain name is GoDaddyBrands.com.
The domain did not exist until earlier today; after we pointed it out to Paul Nicks, VP & GM for GoDaddy's Aftermarket, the domain was quickly registered. 😀 See exchange below: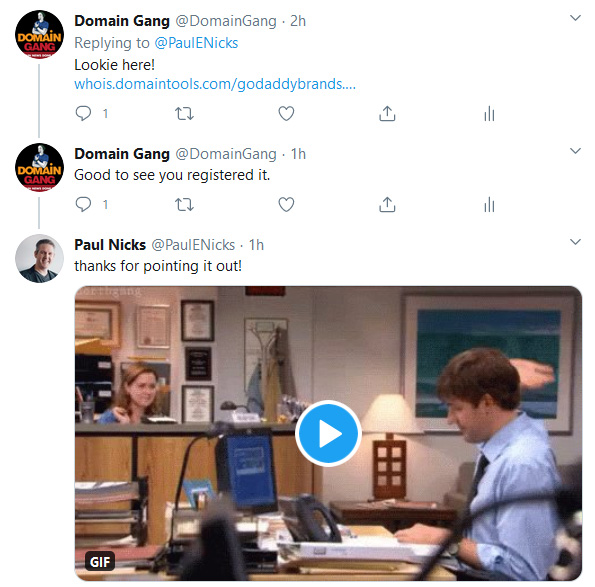 That's more proof that working from home can be equally effective – if not faster! 😀

Copyright © 2021 DomainGang.com · All Rights Reserved.