Adam Dicker's "biggest fan" has acquired #DNForum from Digital Candy
Host Maria owner, Helmuts Meskonis, sent out a press release on his acquisition of DNForum, the oldest, most times sold domainer forum on the planet.
An apparent fan of former owner, Adam Dicker, Meskonis has now followed up on his recent acquisition of British sleeper forum, Acorn Domains, by snagging DNForum. Meskonis stated he spent five figures GBP to get DNForum from Digital Candy, a consortium of British investors.
Digital Candy had acquired DNForum mere weeks prior from cash-strapped Epik. During their short-lived tenure as owners of DNForum.com, Digital Candy removed all Epik advertising. At least, that's a positive.
It seems that it's being between "Scylla and Charybdis" for DNForum, given the online alliance of Helmuts Meskonis with Adam Dicker through a series of videos.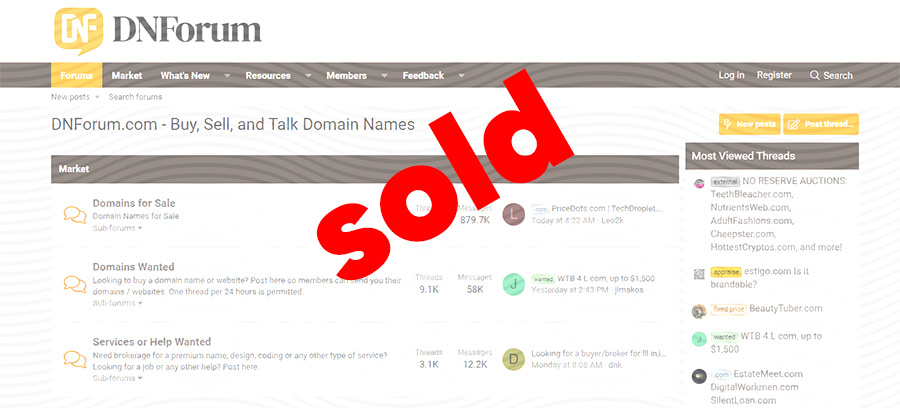 Why's that important to note?
Last summer, Meskonis invited the longest owner of DNForum to his London-based domain conference, after openly gaslighting victims of Adam Dicker's financial entanglement with domain investors, in a long-lasting thread at NamePros; following the uproar, Meskonis asked for his account to be deleted.
Adam Dicker ended up not attending the London Summit and Meskonis had his temporarily disabled account at NamePros re-instated. He's made a handful of posts since.
The official announcement about the acquisition of DNForum.com by Helmuts Meskonis contains some inaccuracies about the forum's sales history by omitting (at least) two past owners. The metrics of the forum should also be taken with a rather large pinch of salt.
A fun fact: DNForum.com is still using Epik.com nameservers, despite its move to GoDaddy's registrar, indicating that Epik has continued to provide hosting services. This should change soon as Host Maria is the new owner's primary business.
Copyright © 2023 DomainGang.com · All Rights Reserved.