DNForum: Annual membership of $750 a shocker to existing members
DNForum is reportedly going to roll out memberships costing $750 dollars per year, in a shock to existing members who already paid for memberships.
These paid members (Exclusive, Gold, Silver) will be losing both visible and invisible benefits, such as the ability to have signature images and access to exclusive domain trading sub-forums.
The new owner, Helmuts Meskonis, has announced the introduction of the new benefits for paid members, triggering the reaction of existing members.
Let's have a quick history recap on DNForum.com: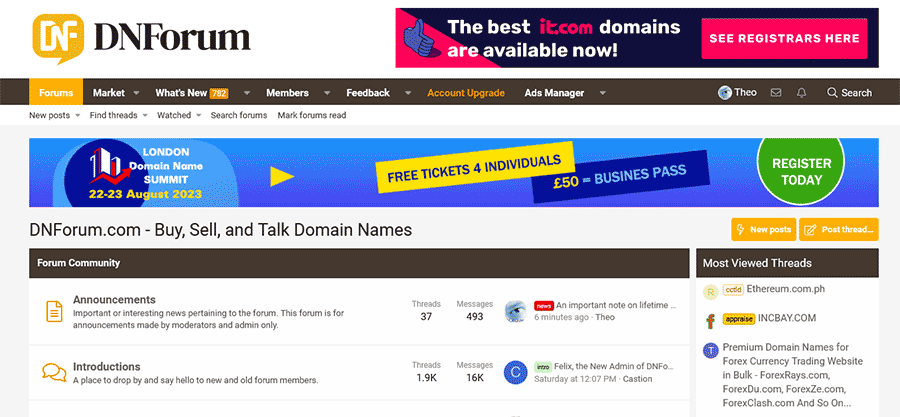 DNForum was recently sold for the umpteenth time, domain, user base, and all. Registered in December 2001, it's the oldest still active domain-focused forum on the internet.
Its original owner sold it to domain investor Greg Ricks who introduced paid memberships as an upgrade for existing accounts. Hundreds of regular members paid for an upgraded membership; when Ricks sold the platform to Adam Dicker, the Canadian domain investor introduced a total of 3 tiers of membership offering added benefits.
Through the years, DNForum enjoyed spikes in traffic and usage that declined since about a decade ago. Dicker allegedly sold the forum to a duo of domain investors, who sold it again, before the domain was acquired by Epik, and then by Digital Candy UK.
According to rumors, the British company wanted to promote its Digital Candy brand in the US but was told to "back off" by the owner of the DIGITALCANDY trademark. The forum was then sold to Helmuts Meskonis, who had recently acquired Acorn Domain Forum, a UK-based domain forum.
The current situation reflects a lack of due diligence by the new owner, who says that he was not informed of obligations the forum has to its existing paid members. Whoever removed the graphics displayed alongside each account's membership tier did so with apparent malice, eliminating membership distinctions—perhaps with an intent to perform what the new owners are now considering.
DNForum might be the oldest domain forum but it's no longer the busy destination of choice for domain investors. Any attempts to enforce paid memberships afresh will be perceived as fresh milking of a cow already devoid of any milk.
Good luck to the new owner and shame to those who removed the membership tiers and hid their actions from the subsequent owners of the forum.
Copyright © 2023 DomainGang.com · All Rights Reserved.
Comments
6 Responses to "DNForum: Annual membership of $750 a shocker to existing members"