Epik has acquired DNForum
Epik announced the acquisition of DNForum, in a transaction that was leaked publicly a few days ago.
The announcement marks yet another transfer of the oldest domain forum that changed hands several times in its lifespan.
DNForum was last acquired by a group of domain investors in 2018.
Robert Davis, EVP Communications for Epik, said in an email to DNForum members:
Special Announcement! It is with great excitement that Epik also announces its acquisition and planned integration of DNForum. As the oldest community of domain investors and collectors in our industry, we recognize the tremendous opportunity it represents to extend new opportunities and financial empowerment through its experienced membership base. Stay tuned for official announcements and invitations to check out new resources, content, and special promotions. Epik customers can also use their existing Single Sign On login to create their identity, as part of the Epik universe of great products and services on offer. We are excited for the future, and all the good things that are to come!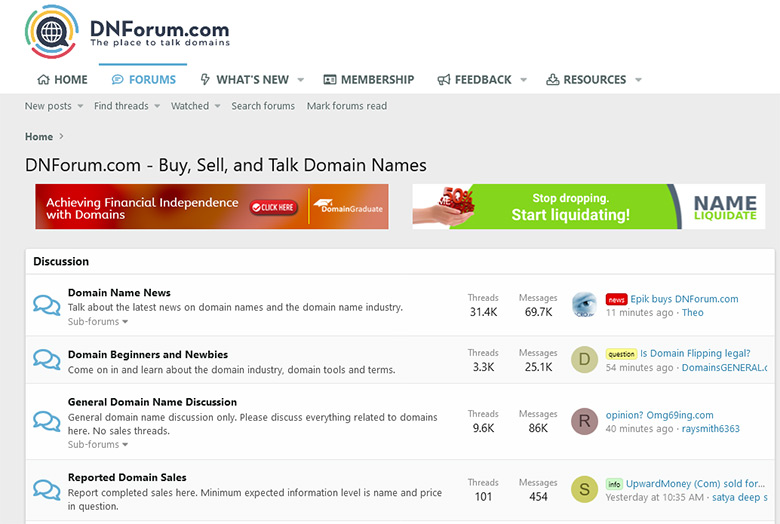 For the occasion, Epik offers domain discounts:
Through July, we feature $6.99 for inbound transfers of .com domains with no restrictions, as well as $7.99 on all new .com registrations. You can also take advantage of the historically low price of $6.99 for first year .org registrations, as well as new registrations of the popular .co for only $0.99. It is the perfect time to evaluate who you entrust with your domain names and investments for the future. We also have special promotions planned through 2021 to offset industry-wide price increases. We believe it is a critical time when leaders should be doing more to support business owners – not less.
Epik founder, Rob Monster, stated:
As the oldest forum of the industry, we hope to play some small role in bringing about a new golden age for the naming industry.
Copyright © 2023 DomainGang.com · All Rights Reserved.
Comments
One Response to "Epik has acquired DNForum"