ICANN : First day of #ICANN60 in Abu Dhabi begins
Beginning today, Abu Dhabi is hosting the ICANN event, ICANN60.
The event's rich agenda attracts thousands of spectators from less oil-rich countries, eager to cooperate on the next stage of the multi-stakeholder model.
Today's rich agenda includes among other things, the following intriguing discussions:
Disrupting Uber in the new tech millennium, using the CamelRide™ app.
Home-based enterprises : Shift the paradigm with 2 or 4 wives?
Pants or not : How to stay cool while wearing a

thawb

during ICANN60.
A rich buffet during ICANN60 at Abu Dhabi presents its attendees with a smorgasbord of local delicacies, such as one minute white rice and steamed armadillo bellies, stuffed dates, steamed sheep brains with palm olive dressing, and jam made out of blossomed cherries.
Tea, iced lemonade and alcohol-free drinks will complete the eclectic menu. Westerners seeking alcohol without a sizable tip will receive 20 lashes.
Tomorrow, ICANN60 continues with more exciting happenings, such as hawk drone chasing and bareback camel racing, that will surely entertain the government-sponsored technocrats traveling to the region.
As long as one doesn't touch a man's hip, everyone should have a good time during ICANN60 in Abu Dhabi.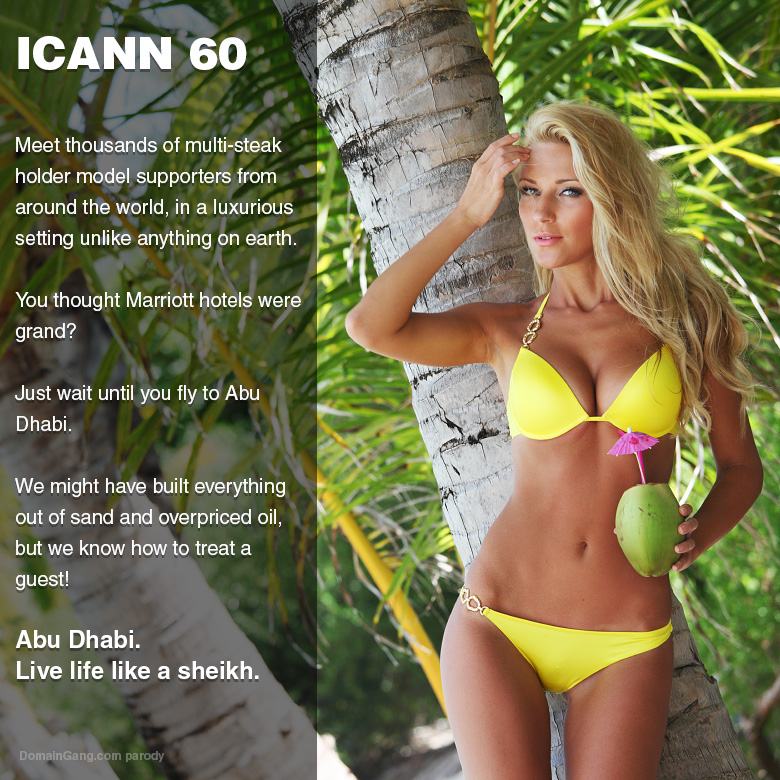 Copyright © 2022 DomainGang.com · All Rights Reserved.
Comments
One Response to "ICANN : First day of #ICANN60 in Abu Dhabi begins"