Insurgence.com in #DropCatch auction after someone at Lift Brands dropped the ball
The dictionary word domain Insurgence.com (insurgence.com) dropped out of the blue, losing its original 1999 registration date.
That's the least of the previous owner's worries, however: the domain is now in an auction at DropCatch which ends today.
What exactly happened and who dropped the proverbial ball renewing this premium domain name?
Apparently, Insurgence.com was acquired by Lift Brands, Inc. in 2017 from its previous owner for an undisclosed amount.
On June 15, 2017, Lift Brands, Inc. applied for the registration of the mark INSURGENCE with an "intent to use" clause. The trademark application was for the following services:
Providing fitness and exercise facilities and equipment; consultation services in the fields of fitness and exercise; personal and group fitness training and instruction services; education services, namely, providing classes, workshops, seminars and boot camps in the field of exercise and fitness; organizing, arranging and conducting athletic and sports competitions and events; providing an internet website featuring information in the field of fitness and exercise
Despite several six month periods during which the trademark applicant had to provide proof of use in interstate commerce, no such proof was filed with the USPTO and the trademark application was deemed "abandoned."
The domain name, Insurgence.com, expired in November. Bidders of the DropCatch auction might want to consider that the company can still come back and claim that a logistical mistake led it to drop the domain under unforeseen circumstances.
Update: The auction for Insurgence.com ended at $6,707 dollars with the DropCatch bidder "ninjadomain" as the winner.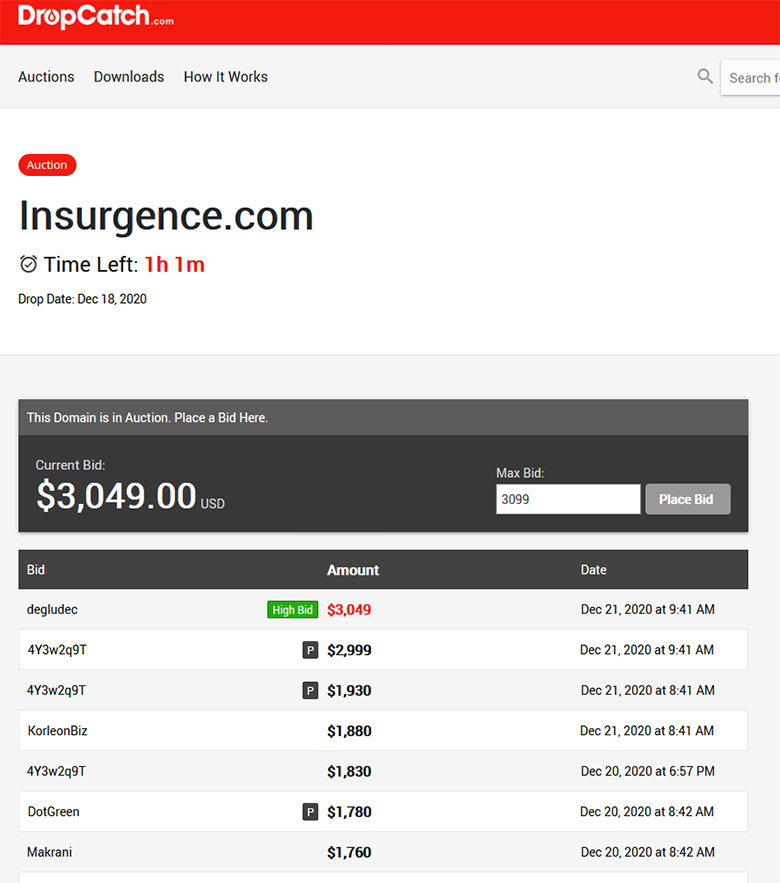 Copyright © 2021 DomainGang.com · All Rights Reserved.