Jumpstart -> Canvas -> Untapped <- .io <- .com <- .me
No longer to be known as Canvas at Canvas.com, a company whose rented domain gave it trouble performs domain rebranding, once again.
In May 2021, a recruiting company known as "Jumpstart" at the time, decided to beef up its brand and domain. For that purpose, they leased the domain Canvas.com, switching to "Canvas" as their brand and corporate name.
It all seemed like a dream move, moving from the lowly Jumpstart.me to Canvas.com, until a company with a registered mark for CANVAS fired its legal salvo.
Even a company with $20 million in funding could not convince the courts that they should not rebrand once again, or quickly enough. Exhausting their final appeal, Canvas was forced to rebrand one more time.
By moving from Canvas and Canvas.com to Untapped, the company moved to the domain Untapped.io. Their branding saga was summarized as such: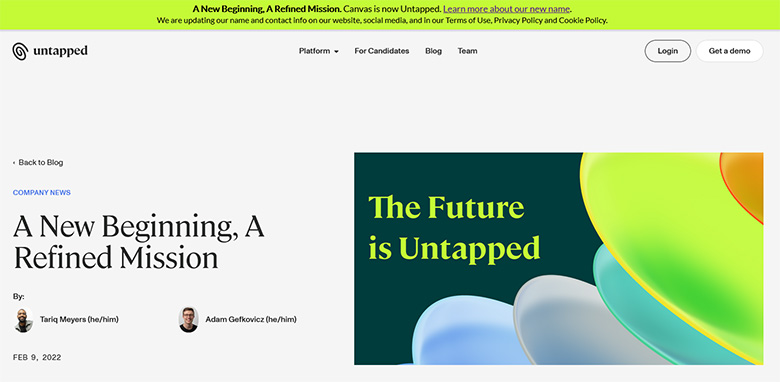 We are changing our name from Canvas to Untapped and while we're sad to let go of a brand we loved, we're even more inspired by the synergy between our new name and refined mission. The decision to rebrand comes on the heels of a set of legal rulings in a trademark suit with another company (different overall industry focus, same name). As a result, we made the decision to part ways with our old name for now and become Untapped.
It's rare and potentially destructive that a company has to perform two rounds of rebranding, let alone in quick succession; by moving to an .io domain the question we have is:
What about the domain Untapped.com?
The .com domain matching the Untapped brand remains "untapped" and for sale on the Uni Market. With an asking price of $1.8 million dollars, Untapped.com has moved into the seven figure territory after this fresh domain rebranding by Untapped; the startup should chalk up the necessary funds to get it as soon as possible, just like the lesson shared in the case of WordPlay.com.
And what about the domain Untapped.io?
According to WHOIS records provided by DomainTools, it seems that Untapped.io was in the possession of domain investor Mark Levine of Domain Theory LLC from 2018 to 2019, before changing hands to a British registrant. It most likely sold via the DAN.com marketplace, as it used the "undeveloped.com" DNS until it moved in the possession of Canvas in late January 2022.

Copyright © 2023 DomainGang.com · All Rights Reserved.