Kim #Kardashian kickstarts Kimono.com for #shapewear fashion brand
Callipygian fashion diva, Kim Kardashian, rolled out Kimono.com as a new brand of body shapewear, called Kimono.
Said Kim on Twitter:
"This is a new approach to shapewear: Offering real solutions in 9 shades and sizes XXS-4XL, @kimonobody celebrates and enhances the shape and curves of women. Each piece is designed with soft yet supportive fabrics for everyone to feel their most confident. #KimonoBody"
The bootylicious entrepreneur promotes her own curves by celebrating the ample female shapes of women worldwide. It's all about the bass, apparently. The brand is brilliant, as it incorporates the founder's name, Kim.
Kim Kardashian's company, Kimono Intimates, has filed trademark registrations at the USPTO for KIMONO BODY and KIMONO, along with KIMONO INTIMATES, KIMONO SOLUTIONWEAR and KIMONO WORLD.
How did Kim Kardashian acquire Kimono.com, a premium domain registered in 1995?
According to Greek-Canadian domain expert, George Kirikos, the domain Kimono.com was acquired last year from its former Japanese registrant via Safenames. Most likely, it was a stealth acquisition, meaning that the former owner had no idea how big the buyer was.
For the record, Kim Kardashian West's personal worth valuation is estimated at $370 million dollars!
In more recent news, Kim Kardashian's choice of a traditional Japanese word is costing her fans in Japan.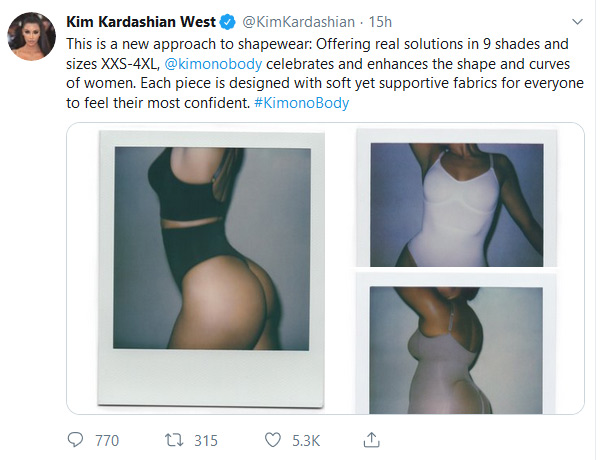 Copyright © 2022 DomainGang.com · All Rights Reserved.