MetaMask: #NFT start-up shares the plight of not owning the .com #domain outright
MetaMask is a software cryptocurrency wallet used to interact with the Ethereum blockchain. It allows users to access their Ethereum wallet through a browser extension or mobile app, which can then be used to interact with decentralized applications. The company interfaces with popular marketplace, OpenSea, to buy and sell NFT items.
Formed in 2016, the company operates from the domain Metamask.io for a reason: the matching .com domain, MetaMask.com, was registered way back in 2005.
Such creative names are not invented by new companies; they exist for as many as 25 years earlier. This is why it's important to own the matching .com.
Demonstrating how important this is, here's a security popup from MetaMask (.io) that alerts its users to ignore emails pointed to MetaMask.com: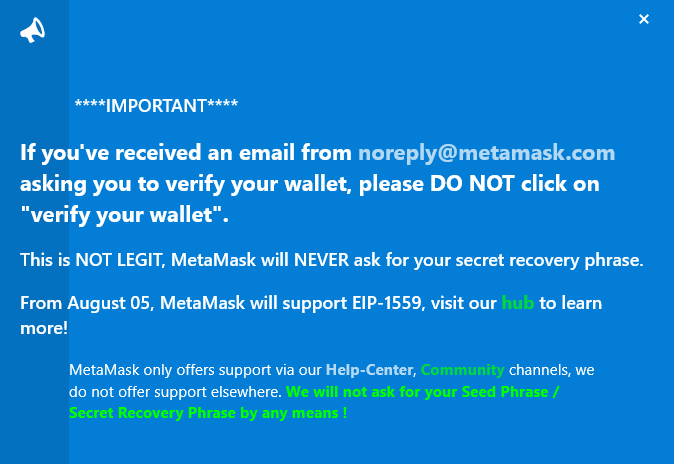 It's ironic that the security alert is issued for the .com by the .io and not vice-versa. Typically, secondary TLDs, gTLDs, and ccTLDs are used to stalk users of the .com to create phishing campaigns.
It's not clear, however, if the domain MetaMask.com is actively doing this.

Copyright © 2022 DomainGang.com · All Rights Reserved.