Mike Mann updates DomainMarket landers; adds LTO option
Domain investor and serial entrepreneur, Mike Mann, holds a massive portfolio of more than 240,000 .com domain names, and numerous others.
The ever-busy domainer operates DomainMarket.com as his portfolio marketplace. The platform has improved over the years and the latest additions would please end-user buyers and domain investors as well.
Mike Mann announced the introduction of new landing pages for individual "for sale" domains, along with lease to own (LTO) options. For example the domain name NakedBrain.com, priced at $79,888 dollars: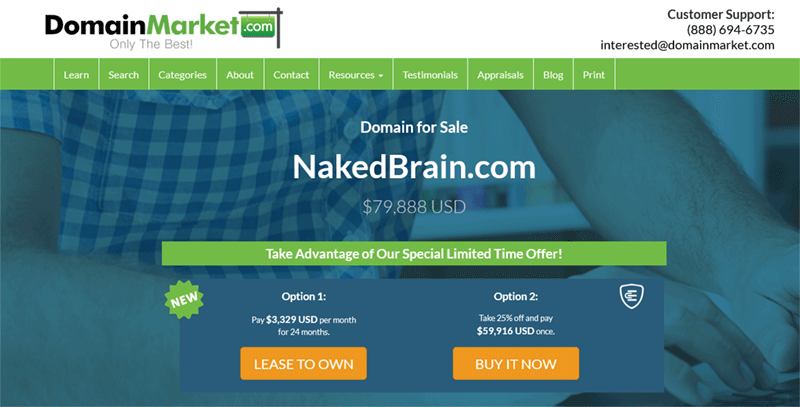 Domain names that are priced above a certain threshold, such as this one, can be acquired using a lease to auction option. In this case, 24 monthly payments of $3,329 dollars each.
And that's not all.
Mike Mann offers a 25% discount for a single payment, "BUY IT NOW" deal and in this case prospective buyers can get NakedBrain.com for only $59,916 dollars. 😀
Looks like a great opportunity to acquire domains from Mike Mann's inventory at DomainMarket.com!
Copyright © 2023 DomainGang.com · All Rights Reserved.