Mint an Ass dot com email address for 0.03 ETH!
Ass.com, Rick Schwartz's former domain/joint venture, is now an NFT project in beta.
Offering a total of 10,000 email addresses under the Ass.com domain might make some guffaw, but in the era of cryptocurrencies and non-fungible tokens this is actually quite smart.
The Ass.com project isn't going full-force currently, offering only a subset of the Ass.com emails to be released; only 100 email addresses are now available at 0.03 ETH a piece (of ass.)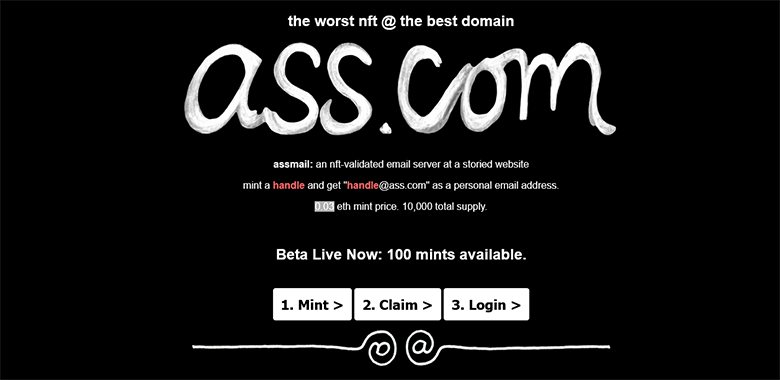 According to the Ass.com FAQ:
The nfts you mint are yours 'til kingdom come. "@ass.com" email address access is guaranteed for 12 months following launch, with extensions at minting milestones. No hate-speech allowed. Swears and curses are fine. Slurs and calls to violence are not. Seriously – you won't get a refund.
To get a piece of the Ass.com NFT project click here.
Copyright © 2023 DomainGang.com · All Rights Reserved.