#PayPal mass glitch : Accounts are being restored
Last night, a mass software glitch hit PayPal, limiting functions in thousands of accounts and seeking documents in order to restore the accounts.
PayPal users flocked to PayPal support forums and on social media accounts controlled by PayPal, seeking support.
The software glitch did not discriminate: 20 year old accounts were affected, along with new accounts. Frustrated PayPal users were left with no meaningful response or resolution, as the issue occurred after operating hours.
Today, these accounts are being restored with no explanation on what caused this. Users that provided the documentation needed had their accounts restored, along with others that did not.
We communicated the issue with PayPal representatives; this is part of the unofficial response:
[…] We are currently experiencing a known issue related to certain limitations placed on accounts. Our system is automatically reviewing and removing the affected limitations within the next 24-48 hours. […]

[…] Yes, many customers were facing this issue. We're sorry about that. […]
A reminder that relying on a single source of transaction manager software can be a bad idea. There is no official announcement on the issue by PayPal.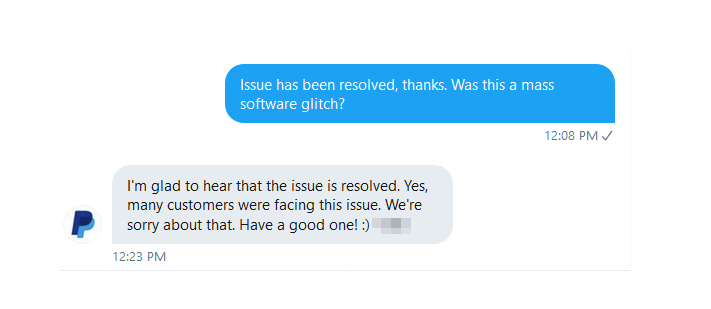 Copyright © 2023 DomainGang.com · All Rights Reserved.