RIP Uni Market
The Uni Market, Frank Schilling's inception of a progressive domain marketplace, will be terminated at the mid of April.
An email sent out to users of the platform can be reviewed below: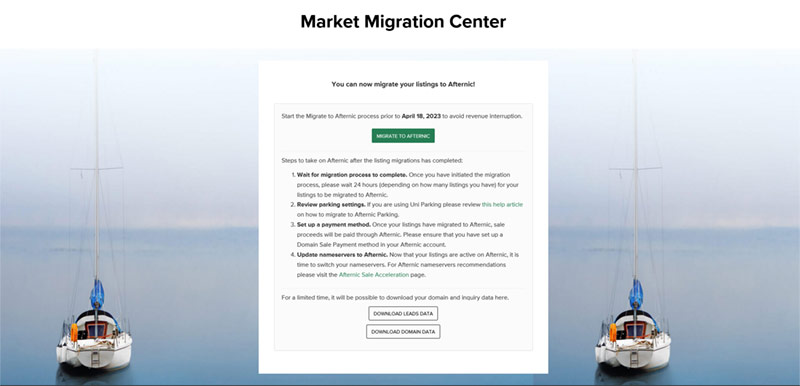 As part of the Uni integration with GoDaddy, we will be retiring the Uni Market, parking platform, self-brokerage service product and Uni App for market account management on April 18, 2023.

To ensure a smooth transition of your Uni Market listings to Afternic prior to the retirement date, follow the steps outlined in this help article. If you do not complete this by April 18, 2023, we will automatically migrate you, and you will need to activate your Afternic account before you receive any payouts. You may also experience delays in incoming leads.

If you are using cash parking, you will need to set up or migrate to an existing Afternic account, set up a cash parking account, and change your nameservers. For information on how to do this, please view this help article. If this is not completed by April 18, 2023, your domain names will stop earning revenue and we will not be able to process any payments to you.

In about 3 weeks, the ability to add new listings to Uni Market will be disabled, as well as adding new domains to your Uni parking account. The Self Brokering product will be retired. Self-Brokering sellers will have the remaining time before platform shut down on April 18, 2023, to wrap up any on-going negotiations. No Uni Market transactions will be possible after this date.

Please note that historical information will not be moved to Afternic.com, therefore, save a copy of any relevant data that you'd like to keep. Through the Uni Market migration tool, you will have the option to export your lead and listing data. Please find details in this help article. After April 18, 2023, you will no longer be able to access this data.

After the migrations on April 18, 2023, you will receive a welcome email from Afternic.com with all the necessary information to manage your Afternic account.

Please reach out to help@uniregistry.com if you have any questions.
The Uni Market is the continuation of Domain Name Sales and the Uniregistry Market, lasting for a little over a decade. It was acquired by GoDaddy three years ago, thus setting the countdown for its sun-setting of services.
If you want to export your Uni Market data, here how it's done.
RIP, Uni Market, and thank you for your service.
Copyright © 2023 DomainGang.com · All Rights Reserved.
Comments
7 Responses to "RIP Uni Market"