#Sedo bans #Coronavirus domains from its marketplace
Sedo has announced the banning of "Coronavirus" domains from its marketplace.
Our premium sponsor shared the news in the members section of its web site:
Why you shouldn't list corona virus related domains Safeguarding Sedo's Marketplace against Misuse of Critical Domains

As the Corona Virus situation unfolds, we want to assure our customers and the domain community that we take the use of domains related to tragic events such as this one very seriously. Utilizing these types of domains to initiate scams or take advantage of people by soliciting illegitimate donations, etc. are strictly forbidden within our Terms and Conditions.

Furthermore while Sedo strives to protect our users' rights to exercise free speech and maintain a diverse marketplace of domain names, Sedo cannot endorse practices which may capitalize on these types of events. We have therefore made the decision to bar domain names related to the Corona Virus or COVID-19 from our marketplace or parking program. These domains are now blacklisted and we have instituted other system-wide parameters alerting us to their use.
A quick search shows that while "coronavirus" or "covid19" returns no search results, there are plenty of "covid" domains. One of them, mycovid.org, is listed for $1,000,000 dollars!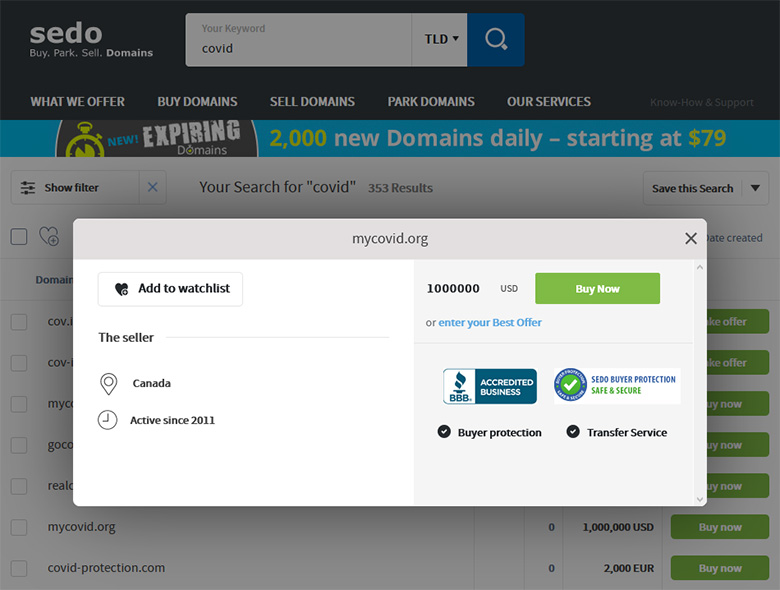 Copyright © 2022 DomainGang.com · All Rights Reserved.