Sedo: Green Domain Auction results not as green
The eco-friendly auction of Green Domains at Sedo ended yesterday and it wasn't as green as expected. The intention was to create awareness about the relevant domain brands that are available.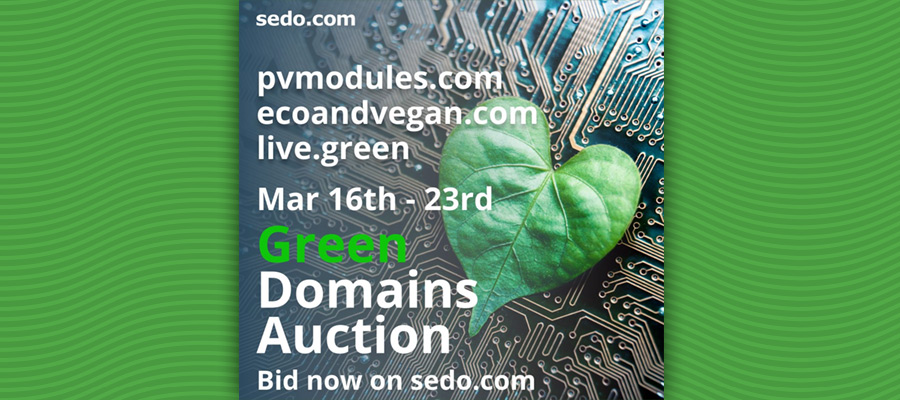 In fact, only a handful of domains were sold during the auction, an indication that perhaps the environmental front is losing steam to other keywords:
Here's what sold:
protection.green 200 USD
ecocasas.es 100 EUR
solarhome.info 99 EUR
gronnenergi.com 99 USD
bioreis.com 99 EUR
greenenergyindex.com 99 USD
marketplace.organic 99 USD
sustainableact.com 70 USD
The good news: There's now a list of approximately 133 "green" domains that can be perused for a second round of inquiries that can be negotiated via Sedo. If you're interested in any of these check out their landing pages directly or via Sedo.com and make a fair offer:
activism.green
bio.ar
biobauer.net
biocarburante.es
biocosmetica.es
bioeko.si
biofarma.es
biofuelcars.net
biohaeuser.com
bioholz.eu
bio-hotel.com
biohotel.net
biohotel.org
biokartoffeln.com
biomass-fuels.com
biorotwein.com
cart.green
casasecologicas.es
cheap.bio
climateimpact.net
decentralized.solar
dev.solar
earthjournals.com
eco.si
ecoandvegan.com
ecofarm.de
ecofriendly.dk
ecofuel.info
ecofuelcells.com
ecogarden.es
ecogreen.es
ecogreenhome.com
ecogreenshop.com
ecologia.ar
ecologia.com.ar
ecological.tv
ecologiste.net
ecologistes.org
ecology.energy
ecostore.net
eco-turismo.com
electricbigrigs.com
energiaeolica.com.ar
energias.com.ar
energiaverde.es
energiepremie.be
energiespeicher.com
energieverte.com
energiewende.net
fensterbankkraftwerk.com
fensterkraftwerk.com
filmearth.com
frisch.bio
fuelcellsemitrucks.com
fuels.green
greenenergie.de
greenenergy.bio
greenfoundation.net
greengarden.es
greengas.at
greenhomes.info
greenhousehotel.com
greeninvestment.info
greenitservices.com
greenlife.es
greenpowerhome.com
greenrevolution.net
greenservices.de
greensolar.info
greensolutions.io
greentrading.com
greenway.info
gruengas.de
hochseeschutz.de
hydrogenfuel.co
leaving.earth
live.green
manure.organic
meal.organic
new-fuels.com
oekoanbieter.de
oekoartikel.de
oekobauer.org
oekogas.net
oekolandbau.org
ökostrom.eu
organic.im
organic.si
organica.es
organics.es
panelsolar.ar
photovoltaikpanel.de
pvmodules.com
recyclables.green
recycler.green
recyclers.green
renewableresources.energy
responsible.green
reusable.green
safeecology.com
saveecology.com
saveinenergy.com
smartsolaranlagen.de
smartsolarenergie.de
software.energy
solar.organic
solaranlage-bauen.de
solar-anlagen.eu
solarcell.de
solarelectric.info
solarevcharger.com
solargreenenergy.eu
solarkraft.net
solarnipaneli.net
solarpowers.ch
solarueberdachung.de
sonnenkraftwerk.com
sun.im
urbanmining.info
vegetarisch.bio
verde.es
virtualbattery.com
wall.solar
wallbox-shop.com
wertstoffhof.com
windenergieanlage.info
windenergieanlagenbau.de
windenergysystem.com
windparkanlagen.de
windradstrom.de
windrotoren.de
windturbinen.com
zonnepanelen.info
Copyright © 2023 DomainGang.com · All Rights Reserved.
Comments
3 Responses to "Sedo: Green Domain Auction results not as green"