Sedo on the road: #Domain delivery in Europe on a bike
Sedo has been handling domain transactions for an amazing 20 years. An acronym for Search Engine for Domain Offers, our premium sponsor has been actively exploring new methods of delivering domain names to its buyers.
The latest experiment involves setting up a bike route network across several European cities of the EU. Sedo headquarters are in beautiful Cologne, Germany, where the corporate bike base has been established.
Many Sedo officers and employees love to ride road bikes for miles on end. Christian Voss, the Sedo CMO, explained what the future brings for Sedo deliveries of domain names.
"As the Sedo CMO I decided to personally test the efficiency of direct delivery of domains while we bike across Europe as a team with InterNetX. Now, CMO stands for Cycling Managing Officer, essentially I am the architect of the new bike base rollout of domains at Sedo. We will be crossing through your city on Sedo bikes soon!"
It's quite common for Christian and others at Sedo to complete 195 to 225 kilometers on a bike in a single day. European cities can be easily reached on such inexpensive delivery routes, saving on banking fees and providing physical exercise to the delivery people.
"We began delivering .DE domains that have been sold in July, such as On.DE, and doing so on a bike is much fun," said Christian Voss, stopping for a couple of beers at a rural restaurant in Luxembourg.

"Beer is the only fuel we need to keep going, delivering domains for Sedo and enjoying the beautiful rural and urban areas of Europe!" added Voss.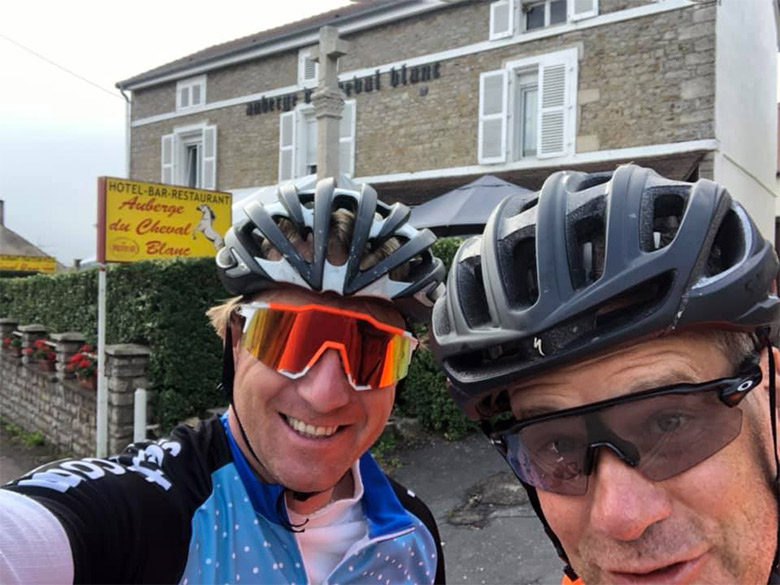 The new Sedo service is called Bikes Und Bier internally, and will be available to select members of the Sedo customer base in August. Click here to sign up.
Prost! 😀
Copyright © 2023 DomainGang.com · All Rights Reserved.