Seven with Sedo: Get FastFood.com and more #domain names
GreatDomains is a bi-monthly domain auction by Sedo, our premium sponsor.
The current GreatDomains event takes place from June 17th to June 24th with 100 carefully curated domains in auction.
From that list, we picked seven for this month's "Seven with Sedo."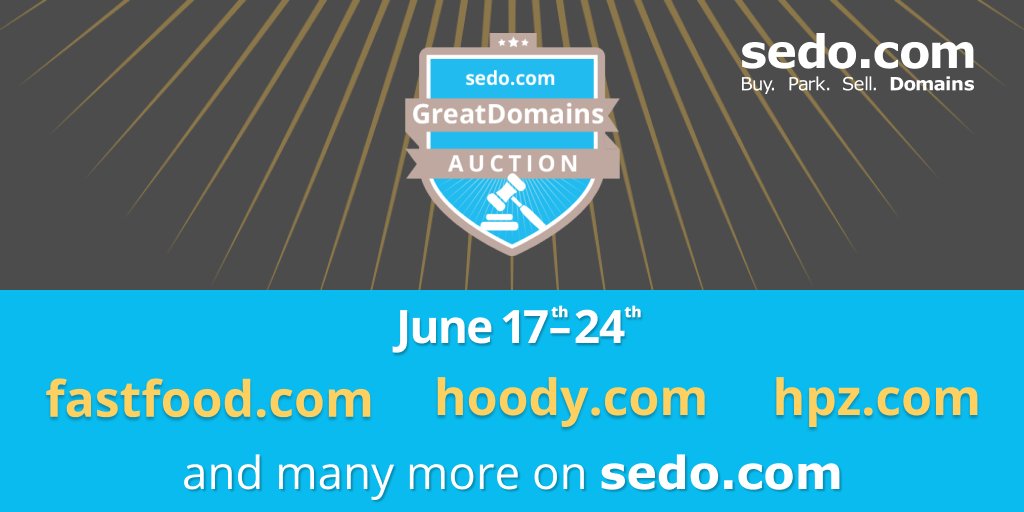 Note: Neither Sedo or the domains' owners influenced our selection of domain names.
FastFood.com – Fast food offers healthier choices these days. Registered in 1995, this domain is priced between $50k to $100k USD.
Pan.com – You can make your own fast food in a pan – this LLL .com was registered in 1990. Not a typo: this pan is 31 years old and comes with a $250k – $500k reserve.
SouthCarolina.net – It's rare that a US state domain goes to auction; this 1996 registration represents a state that joined the Union in 1788. Reserve stands at $1,000 – $5,000 dollars.
Technologie.com – French for technology, this 1996 domain is ready for the market. Reserve is $10,000 – $25,000 dollars.
Pimps.com – Think of this domain as a brand for urban fashion, accessories, and more. Registered in 1995, with an asking price between 10k to 25k euro.
Fl.ag – Great domain hack about the shortest way to raise a flag! This ccTLD can be had for as little as $999 dollars per the reserve range.
GraphicCards.com – Without graphic cards computers would be just dumb terminals. Extraordinary domain, registered in 1998 with a reserve range between $100k to $250k dollars.
Off you go to check out the rest of the domains included in the GreatDomains auction! 😀

Copyright © 2021 DomainGang.com · All Rights Reserved.
Comments
One Response to "Seven with Sedo: Get FastFood.com and more #domain names"