TravelPlan.com: A 1996 domain drop now in a DropCatch auction
TravelPlan.com resonates the essence of having a "travel plan" and the means to make it happen.
The domain was registered way back in 1996 and for several years it was used as a portal for a Dutch software company.
Here's a capture of TravelPlan.com and its "About us" page from 1997:
TravelPlan started in 1992 as a product meant for frequent business travellers. It was then part of Elektroson, a Dutch company based in Eindhoven. In 1995 the activities of TravelPlan were made independent of Elektroson, and through a management buy-out a company by the same name was founded.

The company now employs 45 in Holland and is rapidly growing. The headquarters are based in the centre of Eindhoven. The company has an international character, especially in the field of data acquisition, where it employs staff from the U.S., Bolivia, China, Spain, Portugal, the Netherlands and Germany.
Sometime in late 2002, the company was acquired by the Collinson Group and the domain remained under the Dutch software company's control until 2013, when it was transferred under the mother company's control. Source: Historic WHOIS data courtesy of DomainTools.
For the longest time, the content of TravelPlan.com was reflecting that of another domain under the Collinson Group umbrella, TravelPlanUK.com. It all ended in 2018 with this message below, ending the provision of services for TravelPlan.com & TravelPlanUK.com: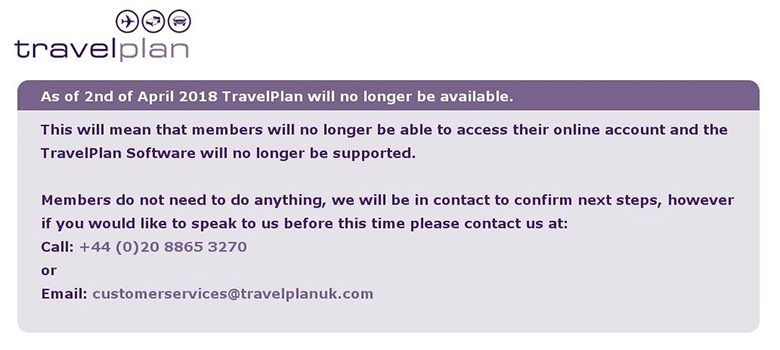 The domain name eventually dropped and was deleted, losing its 1996 registration date. The generic nature of the keywords involved is attracting bidders at DropCatch, who have two more days to compete for the domain.
Currently, the high bid stands at $4,050 dollars but we'd expect to see the auction move into five-figure territory.
Bidders should keep in mind that an existing trademark at the USPTO for "TRAVELPLAN" in stylized form by a Spanish company might complicate things; the Spanish TravelPlan company operates from TravelPlan.es.
Update 6/6/2022: The auction closed at $8,500 dollars.
Copyright © 2023 DomainGang.com · All Rights Reserved.
Comments
One Response to "TravelPlan.com: A 1996 domain drop now in a DropCatch auction"