BabyShark.com: Viral kids' video/song publisher gets matching .com domain in #UDRP
"Baby Shark" is a children's song and dance; originally a campfire song, "Baby Shark" became very popular in 2016, when Pinkfong, a South Korean entertainment company, released a version of the song with a YouTube music video that went viral across social media, online video and radio.
In November 2020, Pinkfong's version became the most-viewed YouTube video of all time, with over 9 billion views. Source: Wikipedia.
The matching .com domain, BabyShark.com, was registered in 2002. Most likely, it was never used for any type of "real" content other than to display PPC ads.
In recent years, WHOIS records show NameFind LLC, the domain warehousing arm of GoDaddy, in the DNS. This might, or might not, indicate that the domain was owned by NameFind LLC.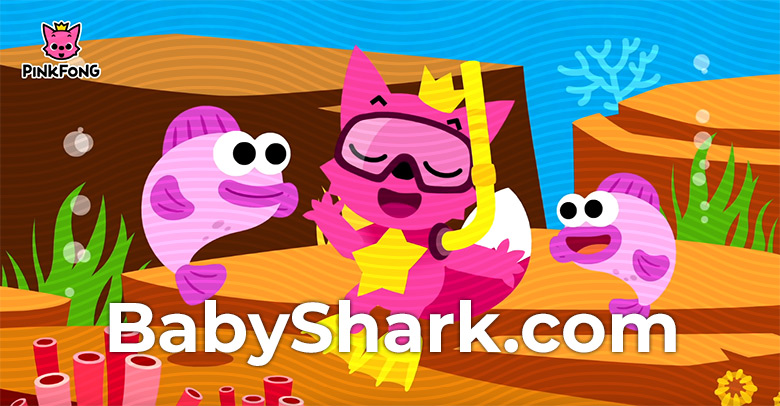 We're saying "was owned" because a recent UDRP case filed by SmartStudy, mother company of Pinkfong, filed and won a UDRP for the domain BabyShark.com. Source: WIPO.
The decision to transfer the domain BabyShark.com to the Complainant is noted in the UDRP decision; so far there are no details released.
Update: The details have been released:
WIPO Arbitration and Mediation Center
ADMINISTRATIVE PANEL DECISION
Smart Study Co., Ltd. v. Domains By Proxy, LLC / norain momin
Case No. D2021-2663

1. The Parties

The Complainant is Smart Study Co., Ltd., Republic of Korea ("Korea"), represented by Fross Zelnick Lehrman & Zissu, P.C., United States of America ("United States").

The Respondent is Domains By Proxy, LLC, United States / norain momin, United States.

2. The Domain Name and Registrar

The disputed domain name is registered with GoDaddy.com, LLC (the "Registrar").

3. Procedural History

The Complaint was filed with the WIPO Arbitration and Mediation Center (the "Center") on August 13, 2021. On August 16, 2021, the Center transmitted by email to the Registrar a request for registrar verification in connection with the disputed domain name. On August 17, 2021, the Registrar transmitted by email to the Center its verification response disclosing registrant and contact information for the disputed domain name which differed from the named Respondent and contact information in the Complaint. The Center sent an email communication to the Complainant on August 30, 2021, providing the registrant and contact information disclosed by the Registrar, and inviting the Complainant to submit an amendment to the Complaint. The Complainant filed an amended Complaint on September 1, 2021.

The Center verified that the Complaint together with the amended Complaint satisfied the formal requirements of the Uniform Domain Name Dispute Resolution Policy (the "Policy" or "UDRP"), the Rules for Uniform Domain Name Dispute Resolution Policy (the "Rules"), and the WIPO Supplemental Rules for Uniform Domain Name Dispute Resolution Policy (the "Supplemental Rules").

In accordance with the Rules, paragraphs 2 and 4, the Center formally notified the Respondent of the Complaint, and the proceedings commenced on September 3, 2021. In accordance with the Rules, paragraph 5, the due date for Response was September 23, 2021.

On September 10, 2021, the Respondent sent an informal email communication to the Center. On September 21, 2021, the Complainant requested the suspension of the proceeding for settlement purposes and the proceeding was suspended for 30 days therefrom. On September 24, 2021, the Complainant requested the reinstitution of the proceeding and the due date to for Response was extended to October 6, 2021. The Respondent did not submit any formal response. Accordingly, the Center notified the commencement of panel appointment process on October 12, 2021.

The Center appointed Warwick A. Rothnie as the sole panelist in this matter on November 29, 2021. The Panel finds that it was properly constituted. The Panel has submitted the Statement of Acceptance and Declaration of Impartiality and Independence, as required by the Center to ensure compliance with the Rules, paragraph 7.

4. Factual Background

The Complainant is an educational entertainment company based in Korea.

One of its animated characters is Baby Shark. According to the Complaint, Pinkfong's recording of the "Baby Shark" song has received over 9 billion views on YouTube over the last decade. It also reached number 32 on the Billboard Hot 100 chart in January 2019. Building on the success of these recordings, the Complainant has also released an animated television series, "Baby Shark's Big Show!" which screens in the United States on the Nickelodeon cable network and in other countries around the world.

The Complainant has also promoted live theatrical events featuring the Pinkfong and Baby Shark characters. Its website claims it has toured over 200 cities giving more than 900 shows and claiming some 1.5 million "engaged fans".

The Complainant owns a number of registered trademarks in the United States, Korea, the United Kingdom, and other countries including:

(a) United States Registered Trademark No. 5,803,108, BABY SHARK, in respect of toys, games, golf and fishing products in International Class 28. The application was filed on January 31, 2018, and registered on July 16, 2019;

(b) Korean Registered Trademark Nos 4015750160000, 4015750140000, 4015609820000, 4015750220000, 4015429340000, 4015750230000, and 4012909140000, each for BABY SHARK, in respect of a wide range of goods and services in International Classes 8, 9, 12, 35, 38, and 41. The earliest of which was registered on September 29, 2017, with most being applications made in 2018 and 2019 which have proceeded to registration over range of dates in 2019 and 2020;

(c) People's Republic of China Registered Trademark No. 36939772, BABY SHARK, for goods in International Class 24 which was registered on November 21, 2019;

(d) United Kingdom Registered Trademark No. 3436566, BABY SHARK, for services in International Class 43;

(e) International Registration No. 1499170, BABY SHARK, in respect of goods in International Classes 3, 5, 16, 21, 30, and 32, which was registered on August 14, 2019 designating Australia, Canada, the European Union, Mexico, and the United Kingdom.

The Respondent became the registrant of the disputed domain name on June 2, 2020 having paid, according to information provided by the Registrar to the Complainant, USD 5,999.

The disputed domain name resolves to a pay-per-click ("PPC") parking page which, in addition to the PPC links, advertises the disputed domain name for sale.

When the Respondent was approached in response to this offer, he reportedly initially sought a price for its transfer of USD 100,000.

5. Discussion and Findings

No formal response has been filed. Following Notification of the dispute including service of the Complaint, however, the Respondent did make an informal response from the email address confirmed by the Registrar as the Respondent's email address. Therefore, the Panel finds that the Respondent has been given a fair opportunity to present its case.

When a respondent has defaulted, paragraph 14(a) of the Rules requires the Panel to proceed to a decision on the Complaint in the absence of exceptional circumstances. Accordingly, paragraph 15(a) of the Rules requires the Panel to decide the dispute on the basis of the statements and documents that have been submitted and any rules and principles of law deemed applicable.

Paragraph 4(a) of the Policy provides that in order to divest the Respondent of the disputed domain name, the Complainant must demonstrate each of the following:

(i) the disputed domain name is identical or confusingly similar to a trademark or service mark in which the Complainant has rights; and

(ii) the Respondent has no rights or legitimate interests in respect of the disputed domain name; and

(iii) the disputed domain name has been registered and is being used in bad faith.

A. Identical or Confusingly Similar

The first element that the Complainant must establish is that the disputed domain name is identical with, or confusingly similar to, the Complainant's trademark rights.

There are two parts to this inquiry: the Complainant must demonstrate that it has rights in a trademark at the date the Complaint was filed and, if so, the disputed domain name must be shown to be identical or confusingly similar to the trademark.

The Complainant has proven ownership of numerous registered trademarks in different jurisdictions for BABY SHARK.

The second stage of this inquiry simply requires a visual and aural comparison of the disputed domain name to the proven trademarks. This test is narrower than and thus different to the question of "likelihood of confusion" under trademark law. Therefore, questions such as the scope of the trademark rights, the geographical location of the respective parties and other considerations that may be relevant to an assessment of infringement under trademark law are not relevant at this stage. Such matters, if relevant, may fall for consideration under the other elements of the Policy. See e.g., WIPO Overview of WIPO Panel Views on Selected UDRP Questions, Third Edition (WIPO Overview 3.0), section 1.7.

In undertaking that comparison, it is permissible in the present circumstances to disregard the generic Top-Level Domain ("gTLD") component as a functional aspect of the domain name system. WIPO Overview 3.0, section 1.11.

Disregarding the ".com" gTLD, the disputed domain name consists solely of the Complainant's registered trademark. Accordingly, the Panel finds that the Complainant has established that the disputed domain name is identical with the Complainant's trademark and the requirement under the first limb of the Policy is satisfied.

B. Rights or Legitimate Interests

The second requirement the Complainant must prove is that the Respondent has no rights or legitimate interests in the disputed domain name.

Paragraph 4(c) of the Policy provides that the following circumstances can be situations in which the Respondent has rights or legitimate interests in a disputed domain name:

(i) before any notice to [the Respondent] of the dispute, [the Respondent's] use of, or demonstrable preparations to use, the [disputed] domain name or a name corresponding to the [disputed] domain name in connection with a bona fide offering of goods or services; or

(ii) [the Respondent] (as an individual, business, or other organization) has been commonly known by the [disputed] domain name, even if [the Respondent] has acquired no trademark or service mark rights; or

(iii) [the Respondent] is making a legitimate non-commercial or fair use of the [disputed] domain name, without intent for commercial gain to misleadingly divert consumers or to tarnish the trademark or service mark at issue.

These are illustrative only and are not an exhaustive listing of the situations in which a respondent can show rights or legitimate interests in a domain name.

The onus of proving this requirement, like each element, falls on the Complainant. Panels have recognized the difficulties inherent in proving a negative, however, especially in circumstances where much of the relevant information is in, or likely to be in, the possession of the respondent. Accordingly, it is usually sufficient for a complainant to raise a prima facie case against the respondent under this head and an evidential burden will shift to the respondent to rebut that prima facie case. The ultimate burden of proof, however, remains with the Complainant. See e.g., WIPO Overview 3.0, section 2.1.

The Complainant states that it has not authorised the Respondent to use the disputed domain name. Nor is the Respondent affiliated with it.

The disputed domain name is plainly not derived from the Respondent's name. Nor is there any suggestion of some other name by which the Respondent is commonly known from which the disputed domain name could be derived. From the available record, the Respondent does not appear to hold any trademarks for the disputed domain name.

In some contexts, the expression "baby shark" could be descriptive. A Respondent does not necessarily have rights or legitimate interests in a disputed domain name, however, just because it consists of or includes an ordinary English expression. See e.g., WIPO Overview 3.0, section 2.10.

In the present case, the Respondent has not made any use of the disputed domain name other than to offer it for sale and, in the meantime, direct the disputed domain name to a page of PPC links – links which seem to be randomly populated on a rotating basis and which (except for one isolated instance) have nothing to do with sharks, baby or adult. Moreover, the amount which the Respondent indicated he would be prepared to transfer the disputed domain name for is far in excess of any out-of-pocket costs and demonstrates a high likelihood of awareness of the Complainant's trademark.

The way the Respondent has been using the disputed domain name, therefore, does not constitute legitimate noncommercial or fair use under the Policy.

These matters, taken together, are sufficient to establish a prima facie case under the Policy that the Respondent has no rights or legitimate interests in the disputed domain name. The basis on which the Respondent has adopted the disputed domain name, therefore, calls for explanation or justification. The Respondent, however, has not sought to rebut that prima facie case or advance any claimed entitlement.

Accordingly, the Panel finds the Complainant has established the second requirement under the Policy also.

C. Registered and Used in Bad Faith

Under the third requirement of the Policy, the Complainant must establish that the disputed domain name has been both registered and used in bad faith by the Respondent. These are conjunctive requirements; both must be satisfied for a successful complaint: see e.g., Burn World-Wide, Ltd. d/b/a BGT Partners v. Banta Global Turnkey Ltd, WIPO Case No. D2010-0470.

Generally speaking, a finding that a domain name has been registered and is being used in bad faith requires an inference to be drawn that the respondent in question has registered and is using the disputed domain name to take advantage of its significance as a trademark owned by (usually) the complainant.

As outlined in Section 5.B. above, the amount for which the Respondent offered to transfer the disputed domain name, USD 100,000 following the Complainant's rise to global fame including on YouTube, in live events, and then via its own television show, indicates a very high likelihood that the Respondent was well aware of the Complainant's trademark. As the disputed domain name resolved to a website offering the disputed domain name for sale and with the PPC links already indicated soon after registration, the clear inference is that the Respondent registered the disputed domain name to take advantage of its resemblance to the Complainant's trademark.

In these circumstances, the Panel finds that the Respondent registered the disputed domain name in bad faith. As described, the manner of use also constitutes use in bad faith.

Accordingly, the Complainant has established all three requirements under the Policy.

6. Decision

For the foregoing reasons, in accordance with paragraphs 4(i) of the Policy and 15 of the Rules, the Panel orders that the disputed domain name, , be transferred to the Complainant.

Warwick A. Rothnie
Sole Panelist
Date: December 23, 2021
WIPO logo

Contact Us Site map Accessibility Terms of Use Privacy Policy
Enjoy the #1 YouTube video of all time:

Copyright © 2022 DomainGang.com · All Rights Reserved.
Comments
One Response to "BabyShark.com: Viral kids' video/song publisher gets matching .com domain in #UDRP"