DJT.com : Alleged billionaire's #domain in the hands of #Chinese registrant
Donald John Trump has been touting his billionaire status for decades. Allegations of using tax loopholes were recently shared in an investigative report by the New York Times.
The president's name is synonymous with his brand of luxurious items and services, and DJT is a registered trademark, for "restaurant services; bar services; food and drink services."
Alas, the billionaire US president is no longer in control of the .com domain matching his initials, DJT.com.

Registered in 1995, the domain was in the possession of The Trump Organization as the registrant. However, that seems to have changed in 2003, when the administrative and technical contact also became the registrant: New York based Microserve, according to historic WHOIS data.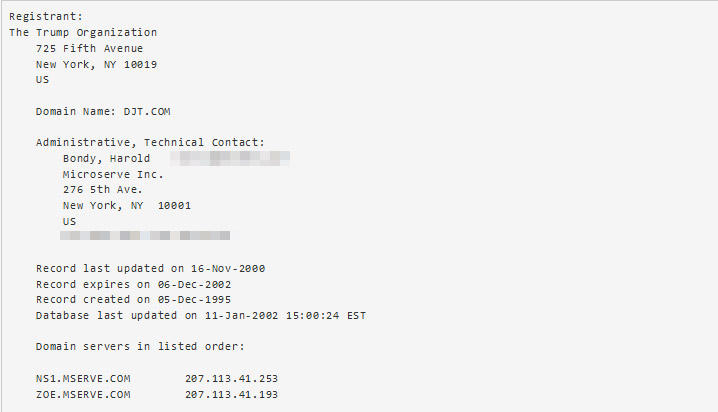 DJT.com remained on MSERVE.com nameservers until May 25, 2012 when it moved to a Chinese registrant's account. Was it a direct sale? We'll probably never find out. The same Chinese registrant acquired Registerfly.com when it dropped around the same time.
The domain DJT.com changed again ownership in 2013 to another Chinese registrant; we believe it's the same registrant to this date.
Sadly, there are no records of DJT.com in the Archive.org database, so we won't be able to find out what it looked like in the 1990's when The Trump Organization operated it.

Copyright © 2022 DomainGang.com · All Rights Reserved.