Dot .rest #domains top #SpamHaus list of most abused #TLDs
SpamHaus is a global keeper of domain and IP violations that maintains a list of abusive behavior originating from a large variety of gTLDs and TLDs.
Exactly how does SpamHaus measure that type of negative performance among domain extensions?
The abusive behavior "score" of domain TLDs is calculated as the ratio of abusive domains that exist in a given TLD, to its total number of active domains.
As of November 2020, the top 3 TLDs with the worst reputations for spam operations are:
Dot .gq is the country code top-level domain for Equatorial Guinea. Freenom relaunched the TLD on October 1, 2014, and domains became available for free on January 1, 2015.
At #8, dot .work is still high on the charts more than two years in a row!
But dot .London  at #9 might surprise some fans of the geographic new gTLD! Definitely not a great achievement.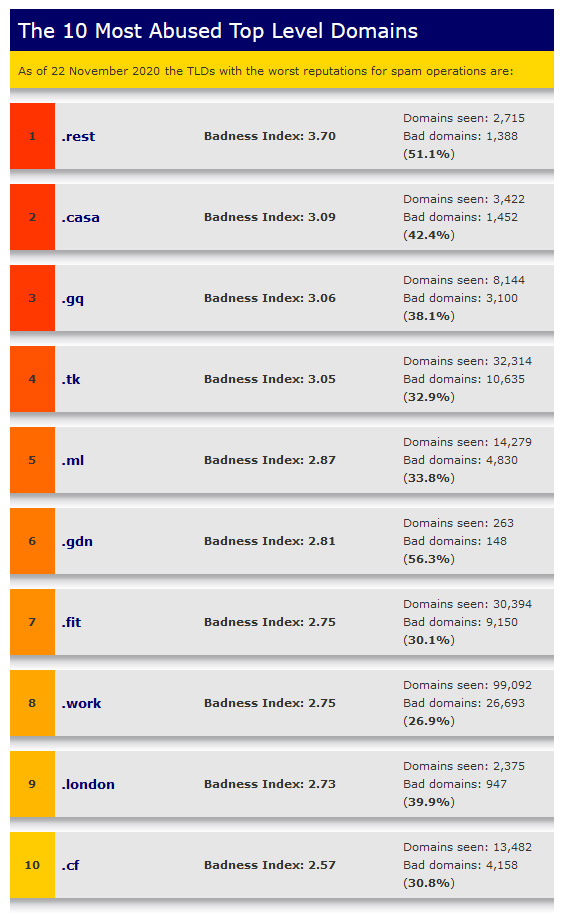 Copyright © 2022 DomainGang.com · All Rights Reserved.
Comments
One Response to "Dot .rest #domains top #SpamHaus list of most abused #TLDs"