Gunfire.com : From unused "web design" site to gun replica mall
Gunfire.com was sold some time in August, via the Escrow.com Concierge service.
The domain was registered in 1996, and an archive of its pages from 1997 contains some interesting stuff, including the [NSFW] babe of the month.
For the next 20 years, the content became increasingly stagnant, and since 2005 the landing page simply displayed a graphic, about "Gunfire Webpage Publishing."
Holding onto a dictionary .com domain was smart. In the late 90's, after the dot com bust, many premium domains were allowed to lapse and drop.
Not this one.
The new owners, Polish corporation Infinity Fund, use Gunfire.com to redirect to the English segment of Gunfire.pl.
The latter is about replica and "airsoft" guns, that cost 300+ euro a pop. These are detailed replica guns and rifles, weighing very close to the originals, and not toy guys. The company sells a large variety of accessories, and they hold a trademark for Gunfire.
We could not find any details about the sale amount of Gunfire.com; Jamie Zoch reported on the DNS change in August.
According to the WHOIS records, the exchange was finalized in mid-September.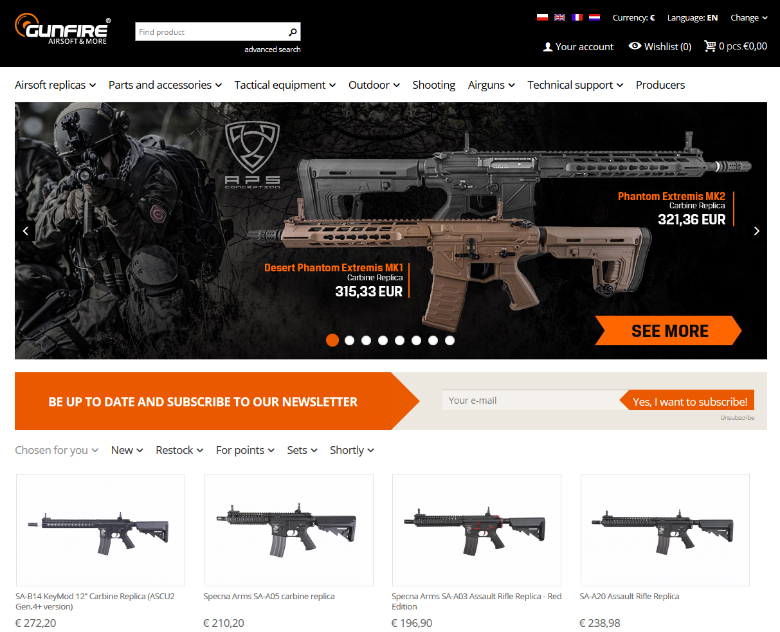 Copyright © 2021 DomainGang.com · All Rights Reserved.
Comments
One Response to "Gunfire.com : From unused "web design" site to gun replica mall"