Link.link sale breaks gTLD record with six figure exchange
The reported sale of Link.link sets a new record, apparently, in an Escrow.com transaction.
The domain Link.link is now reported to have sold for $260,100 dollars via Escrow.com; the seller is an obscure domain investor from China who likes to acquire domains where the keyword matches the gTLD.
Operating from Site.site, the domainer's portfolio contains similar replicant domains:
Beer.beer – for sale at $12,000
Farm.farm – for sale at $8,000
Tours.tours – for sale at $8,000
Horse.horse – listed at $8,000
Other domains owned by the same domain investor include:
domains.domains
estate.estate
finance.finance
game.game
games.games – asking price: $1.3 million dollars
guide.guide
guru.guru
house.house
show.show
team.team
wine.wine
work.work
We have not confirmed that the Link.link sale at $260k is valid, completed, or legit in any way.
If it is, however, it's the #1 reported sale for dot .link domains, surpassing the top .link sale of App.link for $30,000 dollars by a factor of more than 8x.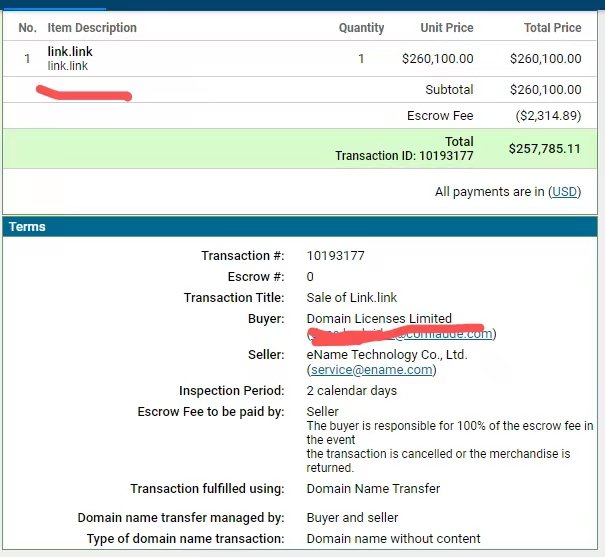 Update: This transaction appears to have completed in mid August 2020, as data from WHOIS changes and the serialized transaction number from Escrow.com show.
At the time, the domain changed hands from a seller in China to Com Laude in Great Britain. It eventually moved to a registrant in Japan, the domain's current holder.

Copyright © 2022 DomainGang.com · All Rights Reserved.