LTU.com dethrones KAU.com as the youngest #LLL .com #domain in the known cosmos!
It's remarkable and inconceivable that a three letter .com domain such as LTU.com would expire and drop.
But hey, this is 2020. Anything that could possibly go wrong this year, will!
LTU.com used to be a domain registered way back in 1995 and for 25 years it retained its registration date—alas, no more.
So what happened? Who dropped the ball on LTU.com and why?
LTU.com was owned by Air Berlin, a now defunct German airline that ceased operations on October 27, 2017 due to financial problems. On its official web site, AirBerlin.com, it says "Tschüss, auf Wiedersehen und bye-bye."
So what does Air Berlin have to do to LTU.com?
LTU was a separate German airline that was acquired by Air Berlin in 2007, according to Wikipedia. In 2008, Air Berlin announced that the trademark LTU would no longer be used, and all flights were rebranded as Air Berlin.
The Wayback Machine provides archived web pages of what LTU.com looked like prior to the acquisition of LTU by Air Berlin.
LTU.com was managed by an email on the LTU.de domain, and the current web site points to airline-related content. However, it's not clear if the current LTU.de operators are the same; due to WHOIS restrictions by Denic, operators of .DE, we cannot tell if the domain's change in 2018 involved a drop.
Regardless, LTU.com is now incontestable as a former asset of a defunct airline. Its ongoing auction at DropCatch has already hit the $30,000 dollar mark, with two days to go. LTU.com has dethroned KAU.com as the youngest LLL .com in the known cosmos! 😀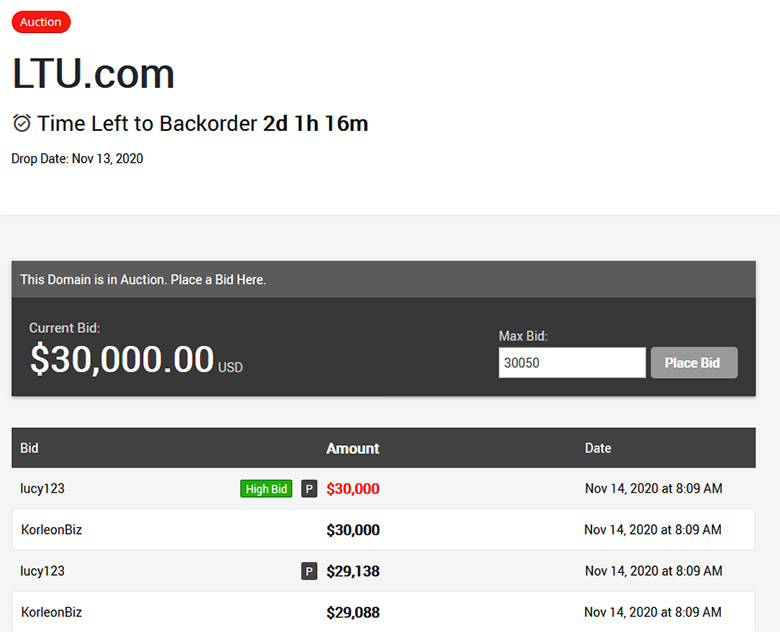 Copyright © 2021 DomainGang.com · All Rights Reserved.