Peter Thiel believes that #Europeans created the #GDPR out of jealousy
Peter Thiel is a successful Silicon Valley executive, having co-founded PayPal.
In a March, Thiel made a statement at the Economic Club of New York, in reference to then pending GDPR legislation enactment:
"The good reasons are these privacy concerns and the bad reasons are there are no successful tech companies in Europe and they are jealous of the US so they are punishing us."
Thiel acknowledged that privacy in a digital era deserves to be re-examined, adding that as a libertarian, he has always disliked regulation.
With Europe trailing the US in producing large technology companies, Peter Thiel supported Donald Trump for his aggressive stance aimed at placing American interests first:
"I thought [supporting Trump] was one of the least contrarian things I did. Half the country supported him. But within the Silicon Valley context it was somehow the most contrarian thing and the least contrarian thing I've ever done."
For more details read the article, titled "Peter Thiel: Europe is cracking down on Silicon Valley out of 'jealousy'."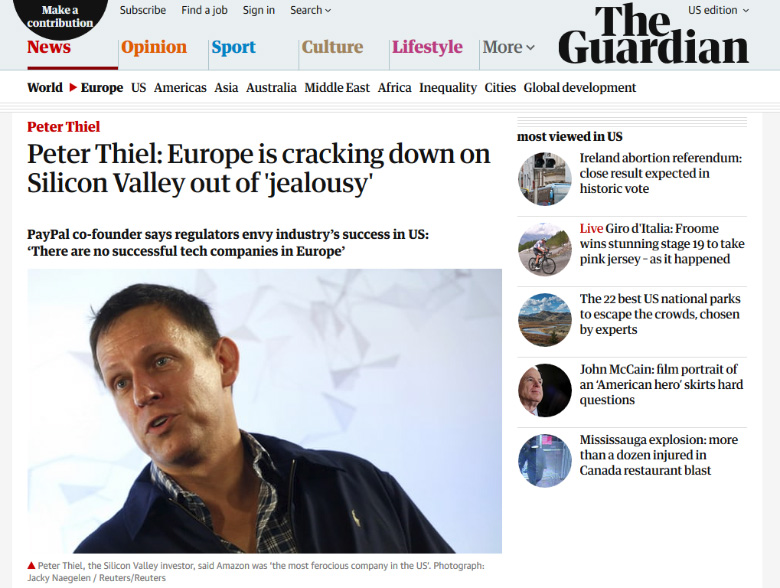 Copyright © 2022 DomainGang.com · All Rights Reserved.
Comments
One Response to "Peter Thiel believes that #Europeans created the #GDPR out of jealousy"