Seven with Sedo: GreatDomains LLLL .com auction ends on Thursday
Sedo owns and operates GreatDomains, a bi-monthly domain auction of premium, hand-selected digital properties.
Our kind sponsor invites domain owners to auction off their domain names and this time around, it's a LLLL .com auction with more than 430 listed domain names for sale.
The auction started on May 19th and will carry on until this Thursday, May 26th. We picked 7 domains from that list, for our personal suggestion; neither Sedo or the domain owners influenced our choice. All domains are listed with a low reserve in the 99 USD/EUR/GBP range.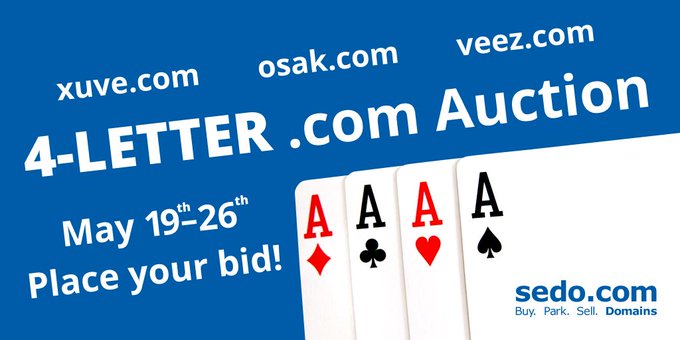 Here's this month's "Seven with Sedo" list:
VEEZ.com / veez.com
FUCX.com / fucx.com
OSAK.com / osak.com
PEFE.com / pefe.com
HEXC.com / hexc.com
PBOW.com / pbow.com
MURT.com / murt.com
View the full list of domains for sale in the GreatDomains auction.
Copyright © 2023 DomainGang.com · All Rights Reserved.