Unplug Russia: An #ICANN president with balls supports internet sanctions
An ICANN president with testicular fortitude supports internet sanctions that would disable key functions on Russian web sites.
That's not Göran Marby, the current ICANN CEO, who flat out refused to get ICANN involved. The man with balls is Mike Roberts, founding president of ICANN from 1998 to 2001.
Mr. Roberts is supporting the development of "a targeted internet sanctions system" that will address important global events, such as the genocide that is taking place in Ukraine currently. Two weeks ago, Russia invaded its much smaller neighbor and has been committing war crimes that are being documented. A global sanction system is in place to deprive Russia of financial resources that sustain its war.
A draft letter was signed by Mr. Mike Roberts along with Bart Groothuis, member of EU parliament, Netherlands; Bill Woodcock, executive director of Packet Clearing House; Ihab Osman, non-executive director of ICANN, Felix Reda, former member of EU parliament, Germany; Jeff Moss, president of DEF CON; Niels ten Oever, post-doc researcher at the University of Amsterdam; Runa Sandvik, security researcher; and Kurt Opsahl, deputy executive director and general counsel of the Electronic Frontier Foundation.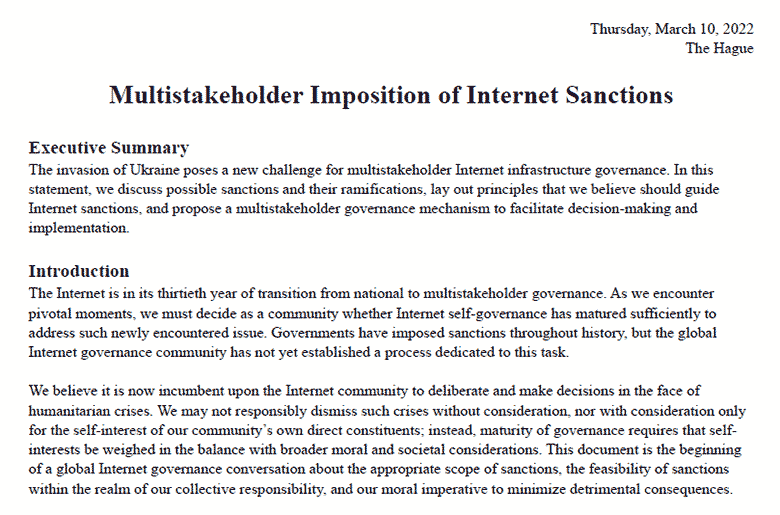 This is a step in the right direction! For more information visit The Register.

Copyright © 2022 DomainGang.com · All Rights Reserved.
Comments
4 Responses to "Unplug Russia: An #ICANN president with balls supports internet sanctions"