#Verisign stock soars, as dot .COM Registry prepares for quarterly report
Verisign, managers of the .COM TLD, are getting ready to release quarterly data, reporting financial performance for the year so far.
The report will be shared in an upcoming audio conference on April 23, next week.
When that announcement was made, Verisign stock was trading at $181 dollars a share. Today, VRSN soared and closed at $209.93 dollars a share.
That's almost 16% in gains in 2 weeks' time. The company is thus doing extremely well, so why does it need the extra cushion by increasing dot .COM base prices?
On March 27th, Göran Marby, ICANN President & CEO, announced that he gave Verisign the green light with regards to the .com Registry Agreement.
As we stated before:
The deal gives Verisign extended rights to increase .COM base prices by 7% during the last four years of its six year contract period. In return, ICANN will receive a total of $20 million dollars for "infrastructure improvements."
Looks like VRSN will jump again next week, a day after its Thursday report release. Then again, it might go down.
Note: We do not hold any VRSN stock and this is not investment advice.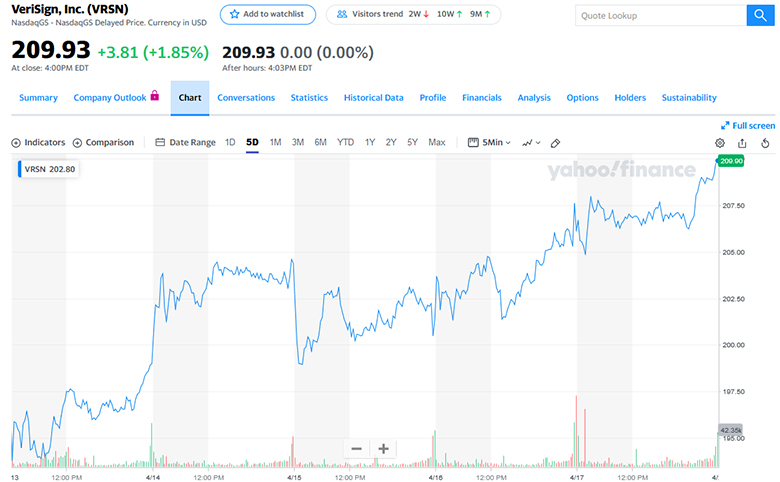 Copyright © 2022 DomainGang.com · All Rights Reserved.