Barbie88 : Faux female attempted to scam #domain investors via the sale of XX.com
A fake female scammer using the NamePros moniker Barbie88, attempted to scam investors out of $85,000 dollars, by claiming they are selling XX.com.
The two letter domain is under WHOIS privacy, and definitely not in the scammer's control.
According to Richard Dynas, the person behind the account "Barbie88" is the same scammer that claimed to be in possession of Technology.com.
Dynas lost $2,000 dollars in the process, and documented his loss in an epic thread.
NamePros moderators disabled the scammer's account, once they failed to comply to a domain ownership verification request.
The two incidents raise an interesting question: is it safe to acquire domains hidden behind privacy WHOIS?
A domain investor should use several means of verification when it comes to acquiring such domains. One obvious solution would be to ask for the WHOIS privacy to be removed. Sharing video of one's registrar account is another option, as static images can be doctored considerably easier. Even then, verification isn't 100% safe.
Always use a reputable domain escrow service for your transactions, such as Escrow.com – kind sponsors of DomainGang and an industry standard for more than 15 years.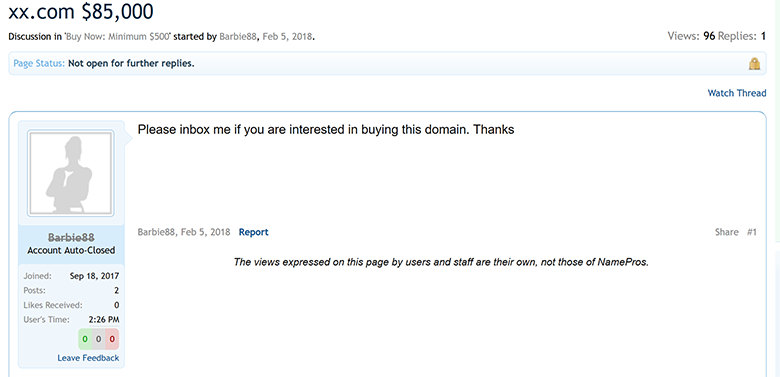 Copyright © 2023 DomainGang.com · All Rights Reserved.
Comments
One Response to "Barbie88 : Faux female attempted to scam #domain investors via the sale of XX.com"