Caution: Fake Network Solutions phishing emails making the rounds
Domain investors should be aware of a current phishing campaign using the Network Solutions brand.
Why is NetSol's brand used as a bait?
The oldest domain registrar maintains millions of aged, premium, or otherwise valuable domains for its clients.
In the current phishing campaign, the domain name NetworkSolutions.CO is part of the communication email; the instructions to log in and verify one's email with Network Solutions creates a sense of urgency and importance.
Here's one such sample: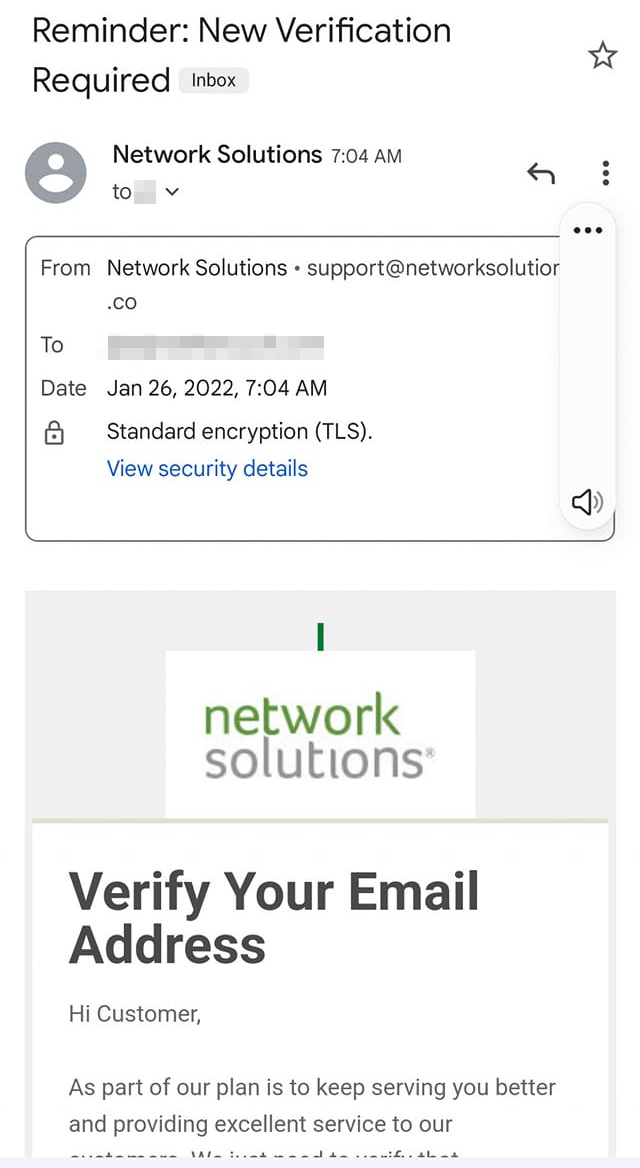 The verification link takes the unsuspected victim to a compromised web site, hosted on WordPress. It does not go to NetworkSolutions.CO, which appears to be a parked domain name.
Whether the .CO is used accidentally or intentionally, that domain is not owned or operated by Network Solutions; we reached out to their online customer support and that's precisely what they said:
[…] we do not own the NetworkSolutions.co domain […]
When receiving such emails from a point of authority, such as a domain name registrar, no matter how legitimate they seem, do not click the email links; instead, log into your account manually and check for notifications about the related "issue."
Copyright © 2023 DomainGang.com · All Rights Reserved.