Alibaba.com files to register matching #trademark with the USPTO
Chinese e-commerce company, Alibaba, operates from the matching .com domain, Alibaba.com.
China's 3rd largest company with a market capitalization of $235 billion dollars has filed to register the matching mark, ALIBABA.COM, with the USPTO.
Unlike many other Chinese trademark applications, this one represents a famous brand with a global footprint. The application was filed with a priority note and it's based on an existing trademark application made in Singapore.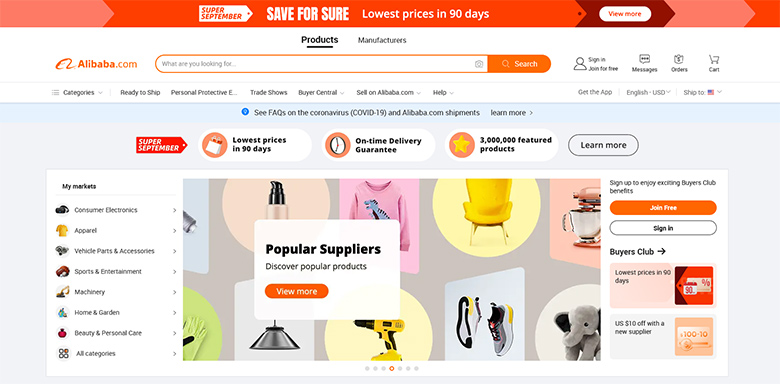 The ALIBABA mark will apply to numerous products and services so we only list a few:
Transport; packaging and storage of goods; travel arrangement; physical storage of electronically stored data or documents; storage of electronically-stored data or documents; transportation information; transport brokerage; transportation logistics; transport of goods and passengers; packaging; ship brokerage; car transport; air transport; armoured-car transport; vehicle rental; message delivery; transport by pipeline; delivery of goods by mail order; courier services (messages or merchandise); transport services in the nature of transport management;
Computer programs; software for processing electronic payments to and from others; authentication software; computer software supplied on the Internet; computer software in the form of an application for mobile devices and computers; software applications for use with mobile devices; computer software for interactive entertainment, which allows users to customize the viewing, listening, and playing experience by selecting and arranging the display and performance of audio, video and audiovisual elements; instant messaging software; file sharing software; communications software for electronically exchanging data, audio, video, images and graphics via computer, mobile, wireless, and telecommunication networks; computer software for processing images, graphics, audio, video, and text; downloadable computer software to facilitate the electronic transmission of information, data, documents, voice and images over the Internet; downloadable computer software which allows users to participate in web-based meetings and classes, with access to data, documents, images and software applications through a web browser; downloadable computer software for accessing, viewing and controlling remote computers and computer networks; downloadable cloud-computing software; downloadable cloud-based software; computer software (including software downloadable from the Internet); computer software applications, downloadable; computer board game software;
Alibaba was formed in 1999 and initially operated from the domain AlibabaOnline.com registered in December 1998, before moving to Alibaba.com in April 1999.
That domain was apparently sold in early 1999, as this capture can provide proof of.
Copyright © 2023 DomainGang.com · All Rights Reserved.